Published on May 28th, 2004, 11:51 pm EST
Greg "Fossilman" Raymer has just put out David Williams to win the 2004 World Series of Poker and a 5 million dollar first place prize.
Online players completed dominated this year's tournament, and will have to be respected from now on. 4 of the final 9 players qualified online, including the winner Greg Raymer and the runner-up as well.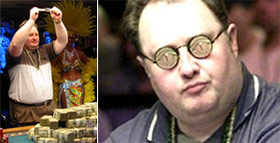 Greg completely dominated the final two days of the competition. Stay tuned to this page for much more info, including winning hands and comments from the participants.
--
Filed Under:
The World Series of Poker