Published on October 5th, 2008 8:23 pm EST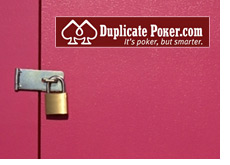 Duplicate Poker has suddenly shuttered their operations, blaming the "global financial situation" for their demise.
If you visit their web site, you will be greeted with a short two paragraph note from the company. They say that they are "sadly bidding farewell" to their players, and that they were a "small victim of the global financial crisis."
The company goes on to say that they are hoping to re-open their doors "in a better economic climate."
Below the message from the company is a small form that current customers can use to withdraw their bankrolls.
Duplicate Poker marketed itself as a skill-based poker game, however the site was never really able to catch on with users. For those who were used to playing regular Hold'em and No Limit Hold'em, the concept behind Duplicate Poker was too confusing.
In the end, most people want to play the same type of poker that they watch on TV. If Phil Ivey, Patrik Antonius and Phil Hellmuth are playing No Limit Texas Hold'em, then that is the game that people will flock to. Duplicate Poker was a clever concept, however they were just never able to gain traction in the hyper-competitive online poker industry.
--
Filed Under:
Online Poker Rooms