Think that the Online Poker Industry Has Escaped the Wrath of the Market Meltdown? Think Again
Published on October 10th, 2008 7:31 am EST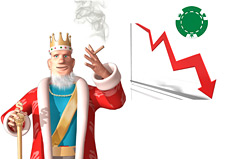 The online poker industry has not escaped the withering punishment of the global economic meltdown. Many publicly traded companies with ties to the online poker industry have seen their market capitalizations plummet over the past 6-12 months.
The publicly traded company in the poker industry that is in the worst shape right now is the World Poker Tour. WPTE is currently trading at a measly 50 cents, which gives the stock a market cap of just over $10 million dollars. Lakes Entertainment, Inc., a company that currently owns 12.48 million shares of the World Poker Tour, recently announced that they would be spinning off their shares in the company to their shareholders in the form of a stock dividend. This will obviously add to the selling pressure in WPTE's stock.
WPTE is in danger of losing their listing on the Nasdaq stock exchange, and will likely need to perform a reverse stock split in order to maintain their listing. The company has a wide range of different problems that we have chronicled before, and things don't seem to be getting much better. This time last year, the stock was trading in the $3 range. The World Poker Tour has a couple of online properties, including Worldpokertour.com and ClubWPT.com.
Partygaming is also struggling. The stock, which is listed on the London Stock Exchange, is down another 8% today. It is currently trading at 142.50, which is the lowest that it has ever traded at (split adjusted). The stock has lost about half of its value since the beginning of June, and about 90% of its value since the summer of 2005. Partygaming immediately tumbled to around 290 after announcing that it was pulling out of the United States, recovered to about 550 (split adjusted), and has since cratered to its current price of 142.50.
Sportingbet (SBT.L) has taken it on the chin as well. The company has lost roughly half of its value over the past 12 months and currently sits at a price of 26.46. The stock has dropped from 37 all the way down to its current level over the course of just five weeks. The company reached an all-time high of well over 400 in mid 2006.
William Hill (WMH.L) and Ladbrokes (LAD.L) have both had horrendous years as well. William Hill is currently trading at 204.50, which is well off of its 52 week high of 659. William Hill has seen a slow and steady decline over the past 12 months. Ladbrokes has suffered the same fate, trading down from over 430 to its current level of 160.
Online gaming software development companies have not fared much better. Gigamedia Ltd (GIGM) is trading at $6.73, down from a 52 week high of $25.42, while Cryptologic Limited is trading at $4.06, down from a 52 week high of well over $21.97.
Neteller, a company that provides e-wallet services to online gaming sites, is down quite a bit over the past year as well. The stock is currently trading at 50.00, which is down from a 52 week high of over 80.
There really aren't too many bright spots from what I could tell. Maybe I missed a publicly traded company in the poker industry that is doing really well right now (in terms of share price), but given the current market environment, I doubt it. 888 Holdings is probably the strongest company over the past year, as it is basically flat over the past 12 months, but even 888 has shed significant market cap over the past month.
--
Filed Under:
Other Poker News