WPT Likely To Focus on ClubWPT.com
Published on October 19th, 2008 5:10 am EST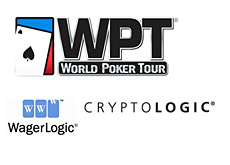 WPT Enterprises, Inc (aka the World Poker Tour) filed a notice on Friday with the SEC, saying that they had informed Cryptologic Inc. and WagerLogic Limited that they would be terminating their agreement. The filing went on to say that the "Company will no longer operate the WPT-branded online gaming website on the Cryptologic network after November 14th, 2008."
WPT Enterprises, Inc and Cryptologic Inc. originally entered into a three-year deal in April of 2007. In 2006, the World Poker Tour decided that they wanted to create their own software for their own online poker room. They licensed a software platform and hired 30 employees in Israel to "develop the software and support infrastructure." Somewhere along the line, WPT Enterprises decided to halt the development of their own software package, close their Israeli offices and instead sign a deal with Cryptologic.
The Cryptologic-based WPT online poker room became operational on June 28th, 2007. A full suite of online casino games was later added to the package.
According to a previous filing with the SEC, the deal called for Cryptologic to receive a minimum guaranteed payment of $750,000 per year. If the revenues generated in the business were lower than that amount, then the World Poker Tour would be forced to make up the difference.
The WPT also exercised an option to have a Spanish and German poker room developed for $100,000. This was more money down the drain, as clearly the business arrangement with Cryptologic didn't work out.
One more thing to note - the WPT extended their licensing agreement with Cryptologic earlier this year until June of 2011.
Now, I am imagining that the World Poker Tour will have to pay Cryptologic a chunk of money to terminate their deal early. We probably won't find out the exact amount until the next quarterly earnings report from the World Poker Tour. The World Poker Tour is losing money every quarter and currently has about $11.83 million in cash and cash equivalents (according to Yahoo! Finance) remaining. They are going to have to do something quickly or they are going to run out of money.
I would imagine that this spells the end of the company's online gambling business. I can't see them trying their luck on another network. The company sounded decidedly pessimistic about the future of their online gambling business on their last conference call, so I would imagine that this is the end of the line for this venture.
In the end, the company had very high hopes for their online gambling business but just couldn't compete against the likes of Pokerstars, Full Tilt Poker, etc. The company hoped that a successful online gambling business would lessen their dependency on television licensing fees, but this just didn't pan out.
The company is likely going to focus their remaining energy and resources on ClubWPT.com, which is a "legal" poker room that requires players to pay a monthly fee. The WPT and Fox Sports Net recently launched a television show called "ClubWPT.com" which features six amateur players competing for "their shot at cash prizes and poker stardom." The show is (obviously) designed to shine the spotlight on ClubWPT.com, which is very likely the company's last remaining hope of pulling out of this nosedive that they are in.
WPTE is currently trading at 46 cents per share, and the company has a valuation of $9.43 million dollars.
--
Filed Under:
Other Poker News