More Refunds Being Sent as a Result of "Superuser" Scandal
Published on November 5th, 2008 6:27 pm EST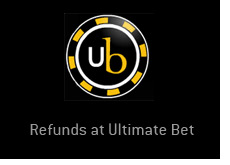 The second round of refunds to players "adversely affected" by the Ultimatebet "superuser" scandal are currently underway, according to multiple sources.
As part of the sanctions that were imposed on Ultimatebet at the end of September, the company was supposed to begin the second round of refunds by November 3rd. November 3rd came and went without an official statement from either Ultimatebet or the Kahnawake Gaming Commission (KGC).
The refunds, according to our sources, began earlier today (November 5th).
I'm not sure if emails have been sent out to those who are receiving refunds. A couple of different people emailed us over the past hour, saying that they had received refunds but no accompanying emails. Players who think that they may be entitled to a refund should check the balance on their Ultimatebet account.
I also have no idea how much money has been refunded in total this time around. The first wave of refunds resulted in $6.1 million dollars being sent back to players - it remains to be seen whether this second round of refunds is larger or smaller than the first round.
We'll post more about this as we receive more information.
Edit:
The second round of refunds seem to be larger than the first.
A number of notable players have reported receiving six-figure refunds.
Blast-Off Ltd is set to receive a $15 million dollar settlement from Excapsa Software, and have announced that they will be applying this settlement towards the latest round of refunds.
Here is a link
to a letter that was sent to an affected Ultimatebet player that details the current situation (from Pocketfives)
Here is some background information on this latest round of refunds from Ultimatebet.com:
Report: Russ Hamilton Said to Be Main Figure Behind Multi-Million Dollar Ultimatebet Scam
--
Filed Under:
Online Poker Rooms