PartyGaming On Verge of Settling With the US Department of Justice?
Published on December 16th, 2008 1:58 pm EST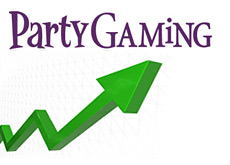 PartyGaming turned in one of its strongest days ever as a publicly traded company on Tuesday, soaring over 27% to close the session at 176.50.
This was an eventful day for the company after word leaked that co-founder Anurag Dikshit was preparing to plead guilty to a charge related to "illegal online gambling".
Dikshit, who owns 27% of PartyGaming's shares, is reportedly going to fork over $300 million dollars to US authorities, and also runs the risk of spending some time behind bars. The Financial Times reported that Dikshit could conceivably spend up to two years behind bars, but that this is unlikely given that he voluntarily stepped forward and doesn't have any previous convictions.
PartyGaming shares really took off on Tuesday after the company released a statement, saying that it was still in negotiations with the US Department of Justice.
The company said that its own settlement has nothing to do with the settlement of Anurag Dikshit. PartyGaming also said that they expect their settlement with the DoJ to cost far less than $300 million dollars, and that a settlement was unlikely to include a criminal plea "on the part of the company or a director".
The stock soared on the "significantly less than $300 million dollars" statement, as many predicted that a settlement with the DoJ could cost PartyGaming as much as a billion dollars.
Other stocks that are currently in settlement negotiations with the US DoJ moved higher on the news as well. 888 Holdings did particularly well, trading up over 14% on the session.
Industry observers believe that a resolution of the sector's "legal situation" in the United States will lead to a wave of consolidation within the industry.
--
Filed Under:
Online Poker Rooms
|
Poker Legal Issues