World Series of Poker 2009 Schedule Now Available
Published on January 26th, 2009 12:58 pm EST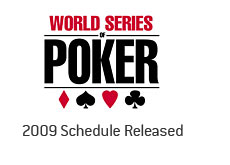 Players have been waiting months for the 2009 World Series of Poker schedule to be released, and today Harrah's finally delivered.
The event will get underway on May 27th with the $500 Casino Employees event. The event will conclude on November 10th, 2009 with the crowning of the World Series of Poker champion.
The "November Nine" format will be back this year. The main event will be paused on July 15th, and will resume on November 7th. According to ESPN.com, the final table will begin on November 7th and run until November 10th.
The World Series of Poker will feature a $40,000, 4-day event that will begin on May 28th. This event will honor the 40th anniversary of the World Series of Poker.
Other interesting notes:
-there will be 10 $10,000 buy-in World Championship events
-there will be a "Stimulus Special" tournament that begins on May 30th. This will have a buy-in of $1,000, and Harrah's anticipates that the prize pool for this event will "approach" five million dollars
-no rebuy events
-there is a "triple-chance" No Limit Hold'em tournament that begins on June 28th
-the 10 World Championship events will be: Seven-Card Stud, Mixed, Omaha High-Low split, 2-7 Draw Lowball, Heads-Up, Limit Hold'em, Seven-Card Stud High-Low split, Pot Limit Omaha, Pot Limit Hold'em, No Limit Hold'em
-there will be a total of 57 events, the most ever
-there will be an additional two events with a buy-in of less than $2500
Here is the complete schedule, from ESPN.com:
1 May 27, noon Casino Employees Event no-limit hold 'em (two-day event) $500
2 May 28, noon 40th annual no-limit hold 'em (four-day event) $40,000
3 May 29, noon Omaha high-low split eight or better (three-day event) $1,500
4A May 30, noon No-limit hold 'em (four-day event) $1,000
4B May 31, noon No-limit hold 'em (four-day event) $1,000
5 June 1, noon Pot-limit Omaha (three-day event) $1,500
6 June 1, 5 p.m. World Championship seven-card stud (three-day event) $10,000
7 June 2, noon No-limit hold 'em (three-day event) $1,500
8 June 2, 5 p.m. 2-7 draw lowball (three-day event) $2,500
9 June 3, noon Six-handed no-limit hold 'em (three-day event) $1,500
10 June 3, 5 p.m. Pot-limit Omaha/hold 'em (three-day event) $2,500
11 June 4, noon No-limit hold 'em (three-day event) $2,000
12 June 4, 5 p.m. World Championship mixed event (three-day event) $10,000
13 June 5, noon No-limit hold 'em (three-day event) $2,500
14 June 5, 5 p.m. Six-handed limit hold 'em (three-day event) $2,500
15 June 6, noon No-limit hold 'em (three-day event) $5,000
16 June 6, 5 p.m. Seven-card stud (three day-event) $1,500
17 June 7, noon Ladies no-limit World Championship (three day-event) $1,000
18 June 7, 5 p.m. World Championship Omaha high-low split (three day-event) $10,000
19 June 8, noon Six-handed no-limit hold 'em $2,500
20 June 9, noon Pot-limit hold 'em $1,500
21 June 9, 5 p.m. HORSE (three-day event) $3,000
22 June 10, noon No-limit hold 'em shootout (three-day event) $1,500
23 June 10, 5 p.m. World Championship 2-7 draw lowball (three-day event) $10,000
24 June 11, noon No-limit hold 'em (three-day event) $1,500
25 June 11, 5 p.m. Omaha/seven-card stud high-low $2,500
26 June 12, noon Limit hold 'em $1,500
27 June 12, 5 p.m. Pot-limit Omaha high-low split $5,000
28 June 13, noon No-limit hold 'em (three-day event) $1,500
29 June 13, 5 p.m. World Championship heads-up (three-day event) $10,000
30 June 14, noon Pot-limit Omaha (three-day event) $2,500
31 June 14, 5 p.m. HORSE (three-day event) $1,500
32 June 15, noon No-limit hold 'em (three-day event) $2,000
33 June 15, 5 p.m. World Championship limit hold 'em (three-day event) $10,000
34 June 16, noon No-limit hold 'em (three-day event) $1,500
35 June 17, noon Pot-limit Omaha (three-day event) $5,000
36 June 18, noon No-limit hold 'em (three-day event) $2,000
37 June 18, 5 p.m. World Championship seven-card stud high-low split (three-day event) $10,000
38 June 19, noon Limit hold 'em $2,000
39 June 20, noon No-limit hold 'em (three-day event) $1,500
40 June 20, 5 p.m. World Championship pot-limit Omaha (three-day event) $10,000
41 June 21, noon No-limit hold 'em shootout (three-day event) $5,000
42 June 21 , 5 p.m. Mixed event (three-day event) $2,500
43 June 22, noon Seniors World Championship (three-day event) $1,000
44 June 22, 5 p.m. Razz (three-day event) $2,500
45 June 23, noon World Championship pot-limit hold 'em (three-day event) $10,000
46 June 23, 5 p.m. Omaha high-low split $2,500
47 June 24, noon Mixed hold 'em (limit/no-limit, three-day event) $2,500
48 June 25, noon Pot-limit Omaha high-low split (three-day event) $1,500
49 June 26, noon World Championship HORSE (five-day event) $50,000
50 June 26, 5 p.m. Limit hold 'em shootout (three-day event) $1,500
51 June 27, noon No-limit hold 'em (three-day event) $1,500
52 June 28, noon Triple chance no-limit hold 'em (three-day event) $3,000
53 June 28, 5 p.m. Seven-card stud high-low (three-day event) $1,500
54 June 29, noon No-limit hold 'em (three-day event) $1,500
55 June 29, 5 p.m. 2-7 triple draw lowball (three-day event) $2,500
56 June 30, noon Six-handed no-limit hold 'em (three-day event) $5,000
57 July 3 -- July 15 No-limit hold 'em main event $10,000
--
Filed Under:
The World Series of Poker