Theo Jorgensen vs Gus Hansen
Published on February 2nd, 2009 12:55 pm EST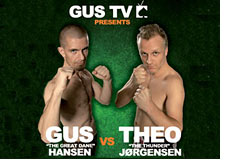 On February 21st, 2009, Gus "The Great Dane" Hansen will take on Theo "The Thunder" Jorgensen in a boxing match.
The match will apparently be shown on Hansen's new free "poker TV channel", GusHansenTV.com (link below). The boxing match will mark the "world premiere" of this new online TV channel.
This event will be taking place during the EPT event in Copenhagen in February, and tickets are apparently still available for the event (lol).
If you are going to be in Copenhagen during this time, then you can purchase a ticket for just 249.00 DKK (Danish Kroner). This works out to about $42 USD, just in case you were wondering.
Hansen estimates that "3,000" people will attend the event.
Apparently other poker players are being asked to participate on this card - Ilari "Ziigmund" Sahamies has apparently been extended an invitation, but it not known whether or not he will fight.
"Ziigmund" enjoys physical combat, as you can clearly see in this Youtube video:
NordicBet.com is offering betting odds for this epic event.
Theo Jorgensen is currently listed as a -285 favorite, while Hansen is listed as a +200 underdog.
There are a number of other odds listed for this event, such as:
Will Gus Hansen win by knockout? +2600
Will the fight end in a draw? +1400
Will Theo win via knockout? +850
The two "fighters" have money riding on the outcome of this event.
If Hansen wins, then he will collect $25,000 from Jorgensen.
If Jorgensen wins, then he will collect $35,000 from Hansen.
Theo has been taking this fight seriously, and has been training for the fight with Poul Duville, who is a well-known boxing instructor. You can see a video of Jorgensen training
here
.
I'm not sure what preparations Gus Hansen is making for this fight, though I am sure that he has some tape-recorded notes about his opponent.
I'll leave you with a picture of the two blood-thirsty opponents:
Source:
Gus Hansen TV
Source:
Wicked Chops Poker
--
Filed Under:
Other Poker News