ProPlayLive.com Officially Launches
Published on March 26th, 2009 4:15 am EST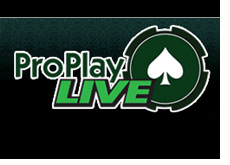 Are you ready for yet another educational poker training site?
Greg "Fossilman" Raymer, who is the "lead instructor" for ProPlayLive.com, thinks that you are.
Proplaylive.com bills itself as an "advanced poker training" site that has a roster of talent with "the most World Series of Poker bracelets of any poker training site".
The site is clearly looking to feature instructors that have a great deal of "live" tournament experience.
Instructors for the site include Greg Raymer, Annie Duke, Erik Seidel, Tom McEvoy and Bill Chen.
Proplaylive.com acknowledges that there is a great deal of competition in this niche, saying that "there are a number of good poker training sites in the marketplace today". However, they then go to say that their "instructors are predominantly online poker players who the general public has never heard of".
The Director of Customer Service for the site, Beverly Pipes, says that the site will feature "meticulously edited" videos that will be "without the long pauses and delays commonly found in other online poker training videos".
The site has two pricing plans, a monthly and a "bulk buy" plan. The monthly plan will cost you $49.95 for a setup fee and $19.95 a month after that (with the first month included in the setup fee), while the second plan will cost you $99.95 for five months, and then $19.95 a month each month after that.
There are apparently 100 instructional videos currently posted on the site.
Some of the "featured" training videos have Greg Raymer playing in a $16 SNG, and Annie Duke playing in a $22 NLH Sit and Go.
This site looks like it has been functioning for a while now, however, this is the first time that I've heard of it.
This isn't a paid plug - Proplaylive doesn't even know that I'm writing this article.
My questions are:
1. Does a roster of instructional talent with plenty of "live" poker tournament experience make you more or less likely to join the site?
2. How do you think they will do in a very crowded niche? (Cardrunners, PokerVT, Bluefirepoker, PokerNews Strategy, etc. etc.)
3. What do you think about their comments re: other online instructional sites?
Source:
ProPlayLive.com
--
Filed Under:
Other Poker News