The 2009 SCOOP Will Get Underway Later This Week
Published on March 30th, 2009 7:11 am EST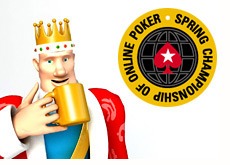 The first ever Spring Championship of Online Poker (SCOOP) is getting underway at Pokerstars later this week.
The event is set to kick off on April 2nd (Thursday) and will run until April 12th.
There will be a grand total of 22 events, with each "event" consisting of three tournaments (which will make for a grand total of 66 tournaments).
Each event will have a low, medium and high buy-in tournament, and all three of the tournaments will get underway at the same time.
Two "events" will run each day - one will start at 14:30 ET, while the other will start at 16:30 ET.
The entire tournament series will have a total guaranteed prize pool of $30 million dollars. Those who were expecting that this would just be a "mini-WCOOP" were blown away at the size of the total prizepool and the number of tournaments.
April 12th will feature both the main event and the Heads-Up Match play event.
The main event will run over two days, and will feature the following events:
"Low" - $109 buy-in, $1 Million Guaranteed
"Medium" - $1,050 buy-in, $3 Million Guaranteed
"High" - $10,300 buy-in, $5 Million Guaranteed
The Heads-Up match play event, which is also running on April 12th, will feature a $25k "High" buy-in event, as well as $270 and $2,600 buy-in events.
Other tournaments of note include:
-a $5,200 PLO event on April 11th
-a $10,300 HORSE event on April 5th
-the two-day No Limit Hold'em "event" that begins on April 5th, which will feature:
a) "Low" event with $33 buy-in and $250,000 prize pool
b) "Medium" event with $320 buy-in and $1.5 million dollar prizepool
c) "High" event with $3,150 buy-in and $3 million dollar prizepool
There are satellites running around the clock for various SCOOP events - you can view a list of the available satellites by accessing Tourney -> Satellite in the Pokerstars lobby.
For a list of the events that will make up the 2009 SCOOP, please click the link below.
Source:
Event Schedule for 2009 Spring Championship of Online Poker (SCOOP)
--
Filed Under:
Online Poker Rooms