Many Overlays in FTOPS XII
Published on May 17th, 2009 8:37 pm EST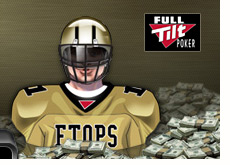 Bad news for Full Tilt Poker. Good news for the 4,581 entrants in the FTOPS main event.
The FTOPS (Full Tilt Poker Online Poker Series) main event had 4,581 total entrants. Each entrant paid $500 + $35 to play in the tournament, meaning that nearly $2.3 million dollars was contributed to the prize pool by the 4,500+ entrants.
Unfortunately for Full Tilt Poker, the main event had a guaranteed prize pool of $2.5 million dollars, meaning that the site had to cough up over $200k to meet the guarantee.
This continued a trend that saw many FTOPS XII events miss their guarantees. Full Tilt Poker clearly miscalculated the amount of interest in FTOPS XII.
Or maybe the mini-FTOPS was so popular (it did really well), that many lower-bankroll players simply forgot about trying to qualify for FTOPS events through a satellite, and instead focused on mini-FTOPS events.
For the main event, Full Tilt took in just over $160k in total fees. However, they were forced to cough up over $200k to meet the guarantee, meaning that they took a loss in the event. Sure they raked money from all of the satellites, however I'm not sure that it would have been enough to cover the $50k loss.
This is Full Tilt's premier event - they expect to make bucketfuls of money every time that they run a FTOPS event.
Let's look at the most recent edition of the WCOOP. Pokerstars raked in nearly two million dollars from the 33 event tournament series, not including any rake from the thousands upon thousands of satellite events.
For the main event of the WCOOP, Pokerstars raked in over $430k. For event #6 of the 2008 WCOOP, Pokerstars raked in over $220k in total fees.
I know that Pokerstars is bigger than Full Tilt, but I can't see a WCOOP (or SCOOP) main event missing its guarantee by hundreds of thousands of dollars. I also can't see more than one or two of their events missing their guarantees, if any at all. I haven't calculated the final numbers, but it seems as though at least half of the FTOPS XII events missed their guarantees.
Don't cry for Full Tilt Poker - they rake an insane amount of money on a daily basis.
However, don't be surprised to see some changes for the FTOPS going forward. I'm not sure what those changes might be, but clearly the upper management at Full Tilt won't be happy with how FTOPS XII did overall.
--
Filed Under:
Online Poker Rooms