The 2009 WSOP Starts in One Week
Published on May 20th, 2009 9:19 pm EST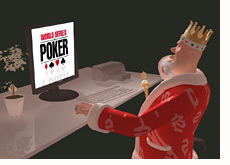 All of the fun, drama and bad beats of the World Series of Poker are just seven days away.
One week from today, on May 27th, the 2009 World Series of Poker will officially kick off with the $500 Casino Employees No Limit Hold'em event.
The first event that is open to the public, the $40k NLHE event, will begin on May 28th.
What follows will be an avalanche of low, medium and high buy-in tournaments that will provide plenty of entertainment for both the players and the fans who are following the events.
You have the $1k NLHE event on May 30th that will have thousands upon thousands of entrants.
You have a variety of $10k Championship events that will be absolutely loaded with talent. The first, the $10k Seven Card Stud event, will begin on June 1st.
You have the $50k H.O.R.S.E. event that will begin on June 26th.
And of course, you have the $10k NLHE World Championship that will begin in July and finish in mid-November.
57 events. Players from all over the world. Tens of millions of dollars in prize money. And it's all just a week away.
There are many questions heading into the 2009 World Series of Poker, such as:
1. How will the event do overall, considering the fact that the world is currently stumbling through a global recession? (it's interesting to note that pre-registration numbers and hotel room bookings are both up over last year, according to a
Pokernewsdaily.com interview with WSOP Commission Jeffrey Pollack
). I think that the 2009 WSOP will do exceptionally well, by the way.
2. How will the "young guns" of poker do this year, after the "veterans" largely dominated in 2008?
3. What kinds of ridiculous prop bets and high-stakes cash game stories will emerge from this year's WSOP?
4. Will Jamie Gold finally relinquish his spot at the top of the all time money list? If so, who will catch him?
5. Will Johnny Chan or Doyle Brunson be able to tie or pass Phil Hellmuth for the all-time bracelet lead?
6. Who will be the biggest story of this year's event? Who will end up having the most disappointing series?
7. How will players respond to some of the new rule changes that have been implemented for the 2009 WSOP?
8. How will the most popular players (Ivey, Antonius, Negreanu, Dwan) end up doing at this year's event?
We'll be doing our best to cover all of the major stories from the 2009 World Series of Poker.
The action gets underway in just one week.
--
Filed Under:
The World Series of Poker