Day 1d of World Series of Poker Main Event Sells Out
Published on July 7th, 2009 12:58 am EST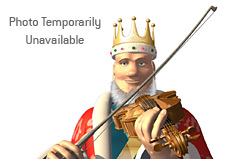 A massive turnout for Day 1d of the 2009 World Series of Poker main event pushed the size of the field to well over 6,000 players.
To be exact, 6,494 players coughed up the $10,000 necessary in order to play the main event.
The number could have been even higher, however "several hundred" players were shut out due to the fact that Day 1d was a sellout.
After posting less-than-stellar numbers for Day 1a and Day 1b of the event, nobody could have figured that Day 1d would end up being a sellout.
This is exactly what happened though, as 2,809 players officially registered to play on Day 1d. This resulted in many players being shut out of the main event, and they weren't too happy about it. Proposals from the affected players were pitched that would have allowed them to still play (such as having a special Day 1E session on Wednesday), but in the end, nothing could be worked out.
In short, while 6,494 turned out for the main event, the number could have actually been quite a bit higher.
The total prize pool for the main event is $61,043,600. 648 players will be paid, with the eventual champion being awarded $8.548 million dollars.
This turnout was supremely impressive given the current global economic recession.
This is the third largest WSOP main event field ever behind 2006 (8,773 players) and 2008 (6,844 players). Given everything that has conspired against the main event this year (recession, anti-gambling legislation, frozen online poker funds, etc), this has to be considered one of the strongest numbers ever. Not only that, but a few hundred more players wanted to play that couldn't.
I think it's pretty safe to say that poker is alive and well.
--
Filed Under:
The World Series of Poker