Phil Ivey, Antonio Esfandiari Still Alive in World Series of Poker Main Event
Published on July 15th, 2009 2:04 am EST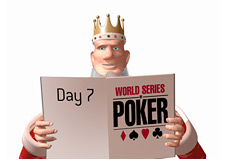 With the elimination of Joe Ward in 28th place, the final three tables of the 2009 World Series of Poker main event are now set.
Day 7 has now drawn to a close, and by this time tomorrow (approximately), we'll know who the "November Nine" will be.
Will the "November Nine" include Phil Ivey?
Phil Ivey will enter the final three tables with one of the largest stacks, so things are looking pretty good for fans of Phil Ivey.
The final chip totals have not been tallied as of yet, but it appears as though Ivey will enter Day 8 with around 11.35 million in chips. This would mean that he would possess the fourth-largest stack entering Day 8.
Antonio Esfandiari, thanks to a double-up near the end of play today, will enter Day 8 with approximately 4.5 million chips in his stack.
Darvin Moon (20.1 million) and Billy Kopp (16.0 million) currently lord over the two largest stacks heading into Day 8. Steven Begleiter (11.8 million), Phil Ivey (11.35 million) and Kevin Schaffel (11.245 million) round out the top five.
Jeff Shulman managed to finish Day 7 with a healthy stack as well, as he will take around 10 million chips with him into Day 8.
Eugene Katchalov, Dennis Phillips and Fabrice Soulier were some of the names that didn't manage to make it through Day 7.
All of the 27 players who are still alive in the tournament are guaranteed at least 352k for making it this far.
Those who are lucky enough to be included in the "November Nine" will take home a minimum of $1.263 million dollars.
As mentioned, the identities of the nine final table participants will be known by the end of play on Wednesday / early Thursday morning.
There will then be a lengthy break, with the final table taking place in mid-November.
Good luck to everyone that is still alive in the main event - we'll have another update tomorrow evening..
Source:
WorldSeriesofPoker.com
--
Filed Under:
The World Series of Poker