2009 WSOP Final Table Betting Odds Now Available
Published on July 22nd, 2009 6:02 am EST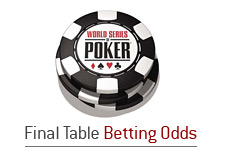 Betting odds for the 2009 World Series of Poker Main Event final table have now been released by Betfair.com.
Darvin Moon is the current favorite to win the event, which shouldn't be any surprise given his monstrous chip stack. Darvin Moon will take nearly 59 million chips with him into the final table, which is nearly double the second place stack that belongs to Eric Buchman (34.8 million).
Darvin Moon is currently listed at
3/1
to win the final table, while Eric Buchman is listed at
9/2
.
Oddsmakers don't seem to have that much faith in Steven Begleiter.
Begleiter is entering the final table with a very respectable stack of 29.89 million in chips, but he is only listed at
6/1
to win.
Jeff Shulman, who currently has about 10 million chips less than Begleiter (19.58 million), has slightly better odds at
11/2
. Shulman made a deep run in the 2000 main event, ultimately coming in 7th place after losing a heart-breaking hand to the eventual winner, Chris "Jesus" Ferguson. Ferguson pushed all-in over top of a pre-flop raise by Shulman, and Shulman made the call with 77. Ferguson held 66, and ended up winning the hand after spiking a six on the flop. Shulman's stack took a hit, and he was eliminated a short time later.
Shulman will be looking for the main event title that slipped out of his hands almost a decade ago.
Phil Ivey is currently listed at
7/1
to win the main event, even though he is one of the smaller stacks entering the final table (9.76 million). Darvin Moon currently has nearly 50 million more chips than Phil Ivey - would any other player on the planet be listed at 7/1 to win with such a chip deficit? I don't think so.
Kevin Schaffel (12.39 million) and Joseph Cada (13.21 million) are both currently listed at around
15/1
.
James Akenhead (6.8 million) has slightly better odds than Antoine Saout (9.5 million), even though Saout has nearly three million more chips.
Akenhead is listed at
17/1
to win, while Saout is listed at
20/1
.
It should be interesting to see how the odds change in the months leading up to the final table.
Source:
Betfair.com
--
Filed Under:
The World Series of Poker