Major New Software Update at Full Tilt Poker
Published on July 31st, 2009 4:59 am EST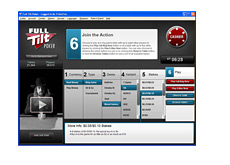 Full Tilt Poker released another major software update early Thursday morning, just a few short weeks after a problem-plagued update that left many people unable to play on the site.
This update contains a number of major changes that players have been requesting for some time now. In addition, to coincide with this latest update, Full Tilt Poker has launched their "Biggest Bonus Ever" promotion. More on that in a bit.
The biggest change in this update? The introduction of two new lobbies.
When you log in to Full Tilt Poker, you will be given the option of three different lobbies to choose from - the "Basic View", the "Standard View" and the "Classic View".
The "Basic View" is recommended for novice players, and basically walks you through the process of finding the game that you want to play.
The "Standard View" lobby contains a number of filters that allow you to keep tabs on the games that interest you the most. Full Tilt also decided to introduce "Lobby Widgets", which allow you to easily keep track of things such as your Full Tilt Points (through the FTP Odometer) or your current balance (through the Mini-Cashier widget).
You'll have to play around with the "Standard View" lobby a bit to see whether or not you like it, but so far the reviews have been fairly positive. Note: the "Standard View" lobby is still in beta.
If you prefer the old Full Tilt Poker lobby, then you can simply choose "Classic View".
Full Tilt Poker also now allows its clients to set a PIN that needs to be entered when logging in.
A number of our readers wrote to us in the past while, complaining about the inadequate level of log-in security at Full Tilt Poker.
They have taken the first step to rectifying this problem by introducing the "Login with Pin" feature.
This will allow Full Tilt Poker users to have a three-card PIN set up for them that will need to be entered every time a person logs in to the site.
In the past, if a hacker gained access to your email account, then they could very easily gain access to your FTP account as well.
Now a hacker will need to know your log-in details as well as your PIN (if you choose to set it up) in order to gain access to your account.
Full Tilt Poker will send you your PIN via email, so make sure to stash it somewhere safe and delete it from your inbox.
Next up - Full Tilt Poker has introduced "Automatic Tournament Deals", which will allow players in any cash MTT and SNG to cut their own deals.
You will notice that there is now a "Make a Deal" button when you sit down to play a cash SNG or MTT.
If the remaining players at your table all want to cut a deal, then the "Tournament Deal" box will pop up and the players will be able to work out a deal.
The software will spit out numbers based on ICM (Independent Chip Modelling) or Chip Ratio. In addition, players can also choose to negotiate their own custom deals.
All of the players must agree in order for a deal to go through. Players will be given up to 20 minutes to negotiate a deal.
--
A number of bugs were fixed in this update, and a number of bugs still remain.
As mentioned, FTP also decided to unleash their "Biggest Bonus Ever" promotion to coincide with this update.
If you have earned at least 1 Full Tilt Point by July 28th then you are eligible for this promotion.
In order to qualify for this offer, you need to accept the bonus offer by August 16th.
The amount of the bonus varies depending on the player - the minimum bonus amount is $100, and some players are reporting that they have received an offer of as high as $600-$700.
In order to accept the bonus offer, you need to do the following things:
1. Log into Full Tilt Poker.
2. Click on Requests, and then click on "Check My Bonus Offer".
3. You should then be presented with your bonus offer. You will need to accept it in order to qualify.
You will have 30 days to release as much of your bonus as you can. Note: you do not need to deposit in order to qualify for this bonus offer. Bonuses, as always, are earned by playing in real-money games.
Source:
Full Tilt Poker
--
Filed Under:
Online Poker Rooms