Full Tilt's FTOPS XIII Off To a Strong Start
Published on August 9th, 2009 3:22 am EST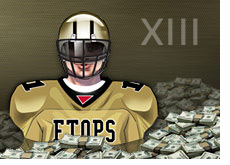 Seven FTOPS XIII events have now been completed, and so far the turnout for the tournament series on Full Tilt Poker has been quite strong.
If you'll remember, FTOPS XII ended up being a bit of an embarrassment for Full Tilt after many events ended up with sizable overlays.
Full Tilt made the mistake of running the MiniFTOPS at the same time as the FTOPS, and this ended up drawing much of the attention away from the bigger buy-in events. Instead of focusing on trying to qualify for FTOPS events through satellites, many players with smaller bankrolls opted instead to play in the MiniFTOPS events.
Full Tilt made two key changes for FTOPS XIII:
1) Less guaranteed money ($16 million+ vs $18 million)
2) Deciding to run MiniFTOPS XIII nearly a month after FTOPS XIII
This meant that interest in the MiniFTOPS wouldn't cannibalize the FTOPS fields, and it seems to have worked so far.
The prize pools in the seven events that have taken place so far have all easily surpassed their guarantees.
Here is a list of the seven events that have been played so far, their guaranteed prize money and the final prize pools:
FTOPS #1 -- $1 Million -- $1,142,400
FTOPS #2 -- $250k -- $357,900
FTOPS #3 -- $200k -- $217,200
FTOPS #4 -- $500k -- $679,400
FTOPS #5 -- $100k -- $108,800
FTOPS #6 -- $350k -- $416,500
FTOPS #7 -- $500k -- $696,300
Of course, it doesn't hurt that this event is taking place:
-right after the World Series of Poker
-when many people are off from work and school
Nevertheless, Full Tilt Poker has to be pleased with the turnout so far.
--
Filed Under:
Online Poker Rooms