ESPN and World Series of Poker Sign Seven-Year Deal
Published on August 18th, 2009 5:55 am EST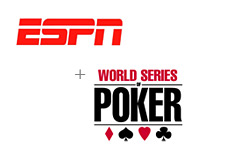 According to USA Today (link below), ESPN and the World Series of Poker have inked a long-term deal that will extend into 2017.
The current deal between the World Series of Poker and ESPN runs until the end of 2010, meaning that the new agreement will be a seven-year deal that runs from 2011 through 2017.
According to an unnamed network executive at the cable network, "ESPN is bullish on poker for a long time to come."
According to an article on Foxbusiness.com
, ratings for the first three weeks of 2009 WSOP coverage are down 8% from last year.
However, there are a few things to note:
1. The last two episodes featured coverage of the "WSOP Champions Cup Invitational" and the "Ante Up for Africa Charity" tournaments. I don't believe that the interest in these two events was very high to begin with.
2. According to the article on Foxbusiness.com, ratings were "flat" among men 25-54.
3. The main event episodes get underway today - I can pretty much guarantee that there will be a noticeable spike in ratings, as people are most interested in watching coverage from the main event.
I really doubt that ESPN is too concerned about the ratings so far, especially considering the fact that Phil Ivey was able to make it to the main event final table. This pretty much guarantees strong ratings as coverage of the main event moves forward.
According to USA Today, the deal is expected to be officially announced on Tuesday.
Source: USA Today -
ESPN, World Series of Poker Extend Broadcast Deal to 2017
--
Filed Under:
The World Series of Poker