Party Poker Revenues Down Dramatically
Published on August 30th, 2009 10:43 pm EST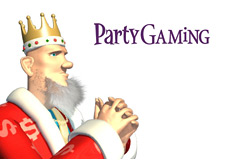 I never thought that I would see the day when PartyGaming would rake nearly as much from their casino operations as their poker business.
There was a time when Party Poker was the 800 pound gorilla of the online poker world, untouchable by even the likes of Pokerstars and Full Tilt Poker.
However, the UIGEA happened, PartyGaming pulled out of the US marketplace and they have been struggling to remain relevant ever since.
PartyGaming recently announced their results for the first half of 2009.
Revenues were down considerably from last year ($201 million vs $255 million), led by a dramatic drop in revenues from their online poker operation ($102.6 million vs $153.9 million).
Net revenues were down 33% from last year, while gross revenues were down 29%. The company actually paid out less in bonuses this year compared to last, even though their new "Super Sign-Up" bonus was introduced in the second half of 2008.
PartyGaming blamed three things on their drop in revenues - competitive pressures, an economic slowdown and "adverse currency movements".
The "competitive pressures" come as a result of Full Tilt Poker and Pokerstars locking horns in a fierce battle for online poker supremacy.
The two rooms keep trying to one-up each other in an attempt to gain market share.
The result? Rooms such as Party Poker struggle to keep up as much-richer rooms (FTP and Pokerstars) freely dish out bonuses and player-friendly promotions in an attempt to outshine their competition.
PartyGaming also cites the recession as a reason for their declining earnings, which makes you wonder if FTP and Pokerstars have also experienced a similar economic-related slowdown. Player numbers on the two sites wouldn't seem to indicate this, but who knows.
It's interesting to note that PartyGaming's "customer bad debts" were way up as a percentage of their revenues in the first half of 2009. 1.6% compared to 0.4% in all of 2008, and 0.4% in all of 2007. That's quite a chunk of change considering that PartyGaming raked in almost $200 million dollars in the first half of the year.
With all of that being said, the company is clearly well-positioned to grow going forward.
They have settled all of their legal issues in the United States and are clearly expecting that they will be doing business in the country immediately after online poker is eventually regulated.
In addition, the company has built up a war chest of funds to use for potential acquisitions.
The bottom line - Party Poker is struggling right now, but don't count them out. If and when online poker is licensed and regulated in the United States, it will be a whole 'nother ball game.
--
Filed Under:
Online Poker Rooms