First Two WCOOP Events Easily Surpass Their Guarantees
Published on September 4th, 2009 1:28 am EST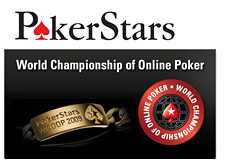 The 2009 WCOOP (World Championship of Online Poker) got off to a strong start on Thursday evening, as the prize pools of the first two events easily surpassed their guarantees.
This year's WCOOP on Pokerstars features a total of 45 events and over $40 million dollars in guaranteed prize money. If the turnout for the first two events is any indication, then the total prize pool for the entire series will top even the most optimistic of expectations.
Event #1 ($215 NLHE 6-Max) had a total guaranteed prize pool of $1.25 million dollars.
A total of 8,538 people ended up registering in the event, meaning that the total prize pool was $1,707,600. This is a staggering turnout for a Thursday night tournament, and a marked increase from 2008.
7,217 players entered this same tournament last year, creating a total prize pool of $1.443 million dollars. This is a very impressive 18%+ increase from last year.
Event #2 ($215 RAZZ) had a total guaranteed prize pool of $200k.
A total of 1,526 players signed up to play in Event #2, creating a total prize pool of $305,200. 1,526 players turning out for a RAZZ tournament? Now that's impressive.
The turnout for this year's RAZZ event also ended up being about 18% (1,526 vs 1,288) larger than last year's event.
It's early days yet, but Pokerstars has to be extremely pleased with the turnout so far.
--
Filed Under:
Online Poker Rooms