Europeans Have Won 9 of First 13 WCOOP Events on Pokerstars
Published on September 8th, 2009 5:59 am EST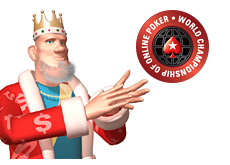 It was a big "Labor Day" weekend on Pokerstars as the 2009 WCOOP kicked into high gear.
There were a total of eight WCOOP events this weekend, with most of the attention being focused on the $10,300 NLHE High Roller event and the $530 NLHE 2-day event.
The $10,300 High Roller event had a guarantee of $2,000,000, while the $530 NLHE 2-Day event had a guarantee of $3,000,000.
Both of these events easily surpassed their guarantees, with the total prize pool of the "High Roller" event coming in at $2.99 million dollars, and the $530 2-day event coming in at $3.1 million dollars.
"Sumpas" outlasted nearly 300 of the best poker players in the world to take down the $10,300 "High Roller" event. The final table was teeming with talent, including the likes of "Sowerss", "BeLOWaBOVe" and "SCTrojans" . In the end though, "Sumpas" from Linkoping was able to take down the title.
In the other big event of the weekend, "hustla16" outlasted 6,218 other players to take down the $530 2-day NLHE event.
"hustla16" was able to dispatch of "aaaaaaaa" in four-handed play, thereby eliminating his toughest challenger at the table.
The two players were the two largest stacks at the table when they got all-in against each other pre-flop. "hustla16" showed pocket Kings, while "aaaaaaaa" showed pocket Queens. The board improved neither player, and "aaaaaaaa" was sent packing in fourth place.
After a lengthy deal discussion, "hustla16" eliminated "Juancesan" to take home over $400k in post-deal money.
The other WCOOP winners for this weekend included:
Event #6 ($109 NLHE), "vakAAttack", Greece, $183,334.81
Event #7 ($215 Pot Limit 5-Card Draw), "cesarSPA", Spain, $33,500.00
Event #8 ($215 Fixed Limit Hold'em), "iacog4", United States, $64,000.00
Event #9 ($215 No Limit Hold'em), "ternoplayer", Slovakia, $303,876.31
Event #10 ($10,300 No Limit Hold'em), "Sumpas", Sweden, $611,455.00
Event #11 ($530 NLHE 2-Day), "hustla16", United States, $446,533.73
Event #12 ($215 NLHE 4-Max), "lebordelail", France, $111,457.69
Event #13 ($320 7-Card Stud), "barrosa 50", Germany, $20,040.00
Of the eight WCOOP events this past weekend, European players were able to win six of them.
Of the 13 WCOOP events that have been played so far, Europeans have won a total of 9 bracelets.
This is quite something when you consider that players from the United States won 22 of the 33 WCOOP events last year.
On Tuesday there will be a total of 3 events, including the $320 Mixed Holdem (6-Max), the $320 FL Badugi and the $320 NLHE.
--
Filed Under:
Online Poker Rooms