WCOOP Main Event Easily Surpasses Its $10 Million Dollar Guarantee
Published on September 20th, 2009 7:34 pm EST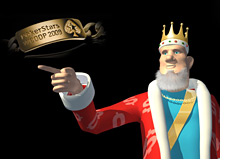 2,144 players of varying skill levels have registered for the 2009 WCOOP (World Championship of Online Poker) main event on Pokerstars, which means that the $10 million dollar guarantee for the event has easily been surpassed.
The 2-day main event will have a total prize pool of just over $10.7 million dollars, which means that the winner of the event will walk away with over $1.7 million (assuming that there are no final table deals).
Final table participants will all be guaranteed at least $96,480. The top two finishers in the tournament will both walk away with seven figure paydays ($1.286 million for second place).
The tournament will pay the top 306 finishers, with those lucky 306 players receiving at least $8,040.00 for their efforts.
The turnout for this year's main event was slightly smaller than in 2008.
Last year there were a total of 2,185 entrants for the main event, which ended up creating a total prize pool of just under $11 million dollars.
The entire 2009 WCOOP series did tremendous business for Pokerstars, as the total amount of prize money awarded will ended up topping the $50 million dollar mark.
This is quite the staggering amount of growth since the inception of the WCOOP in 2002, when the main event ended up with a total prize pool of just $238,000 (the winner of that event, by the way, was "MultiMarine" from Sweden. He took home $65,450 for his first place finish).
I'm sure that Pokerstars would have liked to have had a larger main event field than last year, but given the current state of the global economy, I guess that it's not all that surprising. The fact that the MiniFTOPS main event is also taking place today certainly doesn't help as well.
Good luck to everyone who is participating in the WCOOP main event.
--
Filed Under:
Online Poker Rooms