Phil Ivey Overwhelming Favorite to Win Main Event According to WSOP.com Poll
Published on November 1st, 2009 4:20 am EST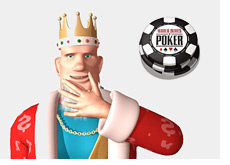 According to recently released poll results on WSOP.com, 78.05% of those surveyed believe that Phil Ivey will walk away with the main event title.
After months of waiting, the 2009 World Series of Poker main event final table is scheduled to get underway in less than a week. The tournament is set to resume on November 7th, with the eventual winner of the event being crowned on November 10th.
Despite possessing the third smallest stack heading into the final table, Phil Ivey is still an overwhelming favorite to win in the eyes of the public.
Here are the poll results from WSOP.com:
Phil Ivey 78.05%
Darvin Moon 6.57%
Jeff Shulman 5.62%
Eric Buchman 2.34%
Joseph Cada 2.18%
James Akenhead 2.10%
Antoine Saout 1.11%
Steven Begleiter 1.10%
Kevin Schaffel 0.75%
Now, obviously this poll is a bit of a popularity contest - how else can you explain only 1.1% of those polled picking Steven Begleiter to win the tournament, despite him having the third largest stack going into the final table? Meanwhile, James Akenhead, who has less than 7 million chips (compared to the nearly 60 million chips that Darvin Moon possesses), has been picked by 2.1% of people to win the main event.
That being said, I think that the votes for Phil Ivey accurately reflect the view of the casual poker fan heading into November 7th. Most fans are overwhelmingly confident that Phil Ivey will go on to win the main event, despite the fact that Darvin Moon has nearly six times as many chips heading into the final table.
Source:
WSOP.com
--
Filed Under:
The World Series of Poker