Joe Cada, Darvin Moon Set To Battle For World Series of Poker Title
Published on November 8th, 2009 9:22 am EST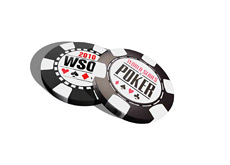 The World Series of Poker main event finally got back underway on Saturday afternoon after a lengthy, multi-month delay.
18 hours (and 276 hands) later, Joe Cada and Darvin Moon are set to battle it out on Monday for the WSOP main event title, as well as $8,547,042 and the much-coveted WSOP bracelet.
The final hand of Saturday's marathon session came when Joe Cada and Antoine Saout got all of their chips in the middle pre-flop.
Prior to the hand taking place, Cada had around 92 million in chips, while Saout had approximately 45 million.
Cada turned up A-K offsuit, while Saout showed pocket eights.
The flop came 5-4-5, and Saout was in good shape to double up.
The turn brought a 10, putting Saout even further ahead in the hand.
The river was the King of clubs, giving Cada a pair of Kings and the monster pot.
Saout, who had battled valiantly all day, was sent to the rail in third place for $3,479,670.
When play resumes on Monday, Cada will begin with around 136,000,000 in chips, while Darvin Moon will have around 62,000,000.
Phil Ivey, who was the overwhelming favorite to win before the final table began, ended up exiting the tournament in 7th place ($1,404,014).
Ivey's demise came when he pushed his small stack all-in on Hand #175 of the final table, and was called by Darvin Moon.
Ivey seemed to be in great shape, holding A-K to Moon's A-Q. However, a Queen on the flop sealed the deal for Ivey, and he was sent to the rail in 7th place.
Jeff Shulman, who was coached by Phil Hellmuth for the final table, ended up being eliminated in fifth place for $1,953,452.
Hellmuth warned that Shulman would be utilizing an "unbelievable" tactic for the final table, and this ended up being oversized raises. Surely both Shulman and Hellmuth were disappointed by the fifth place finish.
There were some unbelievably bad beats dished out on Saturday that should make for some great TV.
Joe Cada vs Darvin Moon for it all on Monday evening. Do you care much at this point?
If Joe Cada wins it all, then he will become the youngest player to ever win the World Series of Poker main event title.
The heads-up battle between Cada and Moon gets underway at 10:00 pm PT on Monday night.
Here is how things finished out on Saturday/Sunday:
3rd place - Antoine Saout
4th place - Eric Buchman
5th place - Jeff Shulman
6th place - Steven Begleiter
7th place - Phil Ivey
8th place - Kevin Schaffel
9th place - James Akenhead
--
Filed Under:
The World Series of Poker