Pokerstars Trying To Break Their Own Record For Largest Ever Online Poker Tournament
Published on December 24th, 2009 10:00 am EST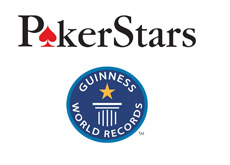 On Sunday, December 27th, Pokerstars will be attempting to once again break the record for largest ever online poker tournament.
Pokerstars is currently listed in the Guinness Book of World Records after hosting a July tournament that had 65,000 entrants.
Pokerstars will be attempting to top their own record on Sunday, December 27th (14:45 ET). Here are the details of the tournament:
-begins at 14:45 ET on Sunday, December 27th
-$300,000 guaranteed prize pool
-$1 buy-in
Given the massive guaranteed prize pool and the fact that this tournament will be taking place during the holiday season, Pokerstars should absolutely smash the old record.
As a matter of fact, there are currently 49,796 people already registered to play, and the tournament doesn't even start for more than three days.
As mentioned, there will be $300,000 of guaranteed money in the prize pool.
Assuming that the tournament doesn't end up with more than 300,000 entrants, the eventual winner of this event will receive $50,000. The second place finisher will receive $30,000, while the third place finisher will take home $20,000.
The top 30,000 spots will pay.
Players will begin with 2,000 chips, and blind levels will increase every five minutes.
There are many satellites into this tournament if you don't have the cash in your account to buy in directly. There are currently $0.10 and 5 FPP satellites running.
If you have a very small bankroll, then I would suggest that you clear your schedule to play this tournament. You won't have many opportunities during your time as an online poker player to potentially win $50,000 from a $1 (or less if you satellite in) investment.
Have fun, and good luck to everybody that is planning on playing.
--
Filed Under:
Online Poker Rooms