Strong Turnout Expected for NAPT Venetian Event in Late February
Published on February 5th, 2010 7:09 am EST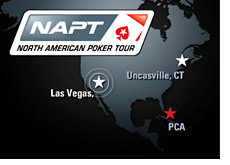 The second stop of the 2010 NAPT (North American Poker Tour) series will be taking place at the Venetian in Las Vegas from February 20-24.
The main event of the "Pokerstars.net Deep Stack Extravaganza I" will feature a buy-in of $5,000 and a 30,000 starting chip stack.
The main event of last year's Venetian Deep Stack Extravaganza series drew a total of 263 people. The buy-in for last year's event ($2,500) was significantly smaller than the upcoming Pokerstars.net sponsored main event.
With more than two weeks left before the start of the 2010 NAPT Venetian main event, there are already at least 235 players that have qualified to play via online satellites at Pokerstars.
By the time that February 20th rolls around, close to 300 people may have qualified for the main event through Pokerstars.com.
Combine this number with the Pokerstars sponsored players (Daniel Negrenau, etc) who will be participating, as well as everyone else that registers directly, and you have the potential for a very large field. I would imagine that, based on the potential size of the prize pool and the structure of the tournament, that many top names will be choosing to participate in this tournament who normally would have skipped it.
Pokerstars is expected to announce additional NAPT events in the weeks ahead, and you can expect that all will be well-attended, given the backing of the online poker giant.
Source: Pokerstarsblog.com -
NAPT Venetian Field Filling Up Fast
--
Filed Under:
Other Poker News