Pokerstars Revises 2010 SCOOP Schedule
Published on March 2nd, 2010 6:38 pm EST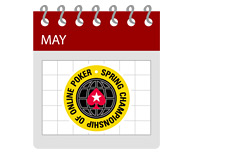 The 2010 SCOOP (Spring Championship of Online Poker) on Pokerstars has just gotten even better.
Pokerstars released the preliminary schedule for the 2010 SCOOP last week, at the same time requesting feedback from players as to how the schedule could be improved.
Pokerstars listened to their players and made a number of changes.
Here are some of the major changes, followed by the new schedule:
1. 2010 SCOOP will start on Sunday, May 2nd (event started on Monday, May 3rd on the old schedule)
2. 38 total events (up from 33 in the original schedule)
3. $45,000,000 in guaranteed prize money (up from $36 million in original schedule)
4. Winner of $10,300 NLHE main event will be guaranteed $1 million (before any chop)
5. Total of 114 individual tournaments (up from 99 in original schedule)
6. Heads-Up NLHE event moved to Saturday, May 15th
There were some other changes made as well - check the new schedule below:
Sunday, 02 May 2010
13:00 ET
Event 01-L: $22 NL Hold'em [6-max], $250K guaranteed
Event 01-M: $215 NL Hold'em [6-max], $1M guaranteed
Event 01-H: $2,100 NL Hold'em [6-max], $1M guaranteed
17:00 ET
Event 02-L: $22 NL Hold'em, $500K guaranteed (2-day event)
Event 02-M: $215 NL Hold'em, $2M guaranteed (2-day event)
Event 02-H: $2,100 NL Hold'em, $2M guaranteed (2-day event)
Monday, 03 May 2010
14:00 ET
Event 03-L: $5.50 NL Hold'em [6-max, rebuys], $250K guaranteed
Event 03-M: $55 NL Hold'em [6-max, rebuys], $500K guaranteed
Event 03-H: $530 NL Hold'em [6-max, rebuys], $1M guaranteed
17:00 ET
Event 04-L: $16.50 FL Badugi, $25K guaranteed
Event 04-M: $162 FL Badugi, $50K guaranteed
Event 04-H: $1,575 FL Badugi, $75K guaranteed
20:00 ET
Event 05-L: $11 PL Omaha [turbo, 1R1A], $50K guaranteed
Event 05-M: $109 PL Omaha [turbo, 1R1A], $100K guaranteed
Event 05-H: $1,050 PL Omaha [turbo, 1R1A], $150K guaranteed
Tuesday, 04 May 2010
14:00 ET
Event 06-L: $11 PL 5-Card Draw, $25K guaranteed
Event 06-M: $109 PL 5-Card Draw, $50K guaranteed
Event 06-H: $1,050 PL 5-Card Draw, $75K guaranteed
17:00 ET
Event 07-L: $16.50 NL Hold'em [Heads-Up Match Play], $100K guaranteed
Event 07-M: $162 NL Hold'em [Heads-Up Match Play], $250K guaranteed
Event 07-H: $1,575 NL Hold'em [Heads-Up Match Play], $500K guaranteed
20:00 ET
Event 08-L: $11 NL Hold'em, $100K guaranteed
Event 08-M: $109 NL Hold'em, $200K guaranteed
Event 08-H: $1,050 NL Hold'em, $500K guaranteed
Wednesday, 05 May 2010
14:00 ET
Event 09-L: $22 Mixed Hold'em [6-max], $100K guaranteed
Event 09-M: $215 Mixed Hold'em [6-max], $200K guaranteed
Event 09-H: $2,100 Mixed Hold'em [6-max], $400K guaranteed
17:00 ET
Event 10-L: $33 7-Card Stud High, $25K guaranteed
Event 10-M: $320 7-Card Stud High, $50K guaranteed
Event 10-H: $3,150 7-Card Stud High, $100K guaranteed
Thursday, 06 May 2010
14:00 ET
Event 11-L: $22 PL Omaha [Heads-Up Match Play], $25K guaranteed
Event 11-M: $215 PL Omaha [Heads-Up Match Play], $100K guaranteed
Event 11-H: $2,100 PL Omaha [Heads-Up Match Play], $200K guaranteed
17:00 ET
Event 12-L: NL Hold'em (TBD), $100K guaranteed
Event 12-M: NL Hold'em (TBD), $200K guaranteed
Event 12-H: NL Hold'em (TBD), $300K guaranteed
Friday, 07 May 2010
14:00 ET
Event 13-L: $16.50 NL Hold'em [Ante Up!], $50K guaranteed
Event 13-M: $162 NL Hold'em [Ante Up!], $100K guaranteed
Event 13-H: $1,575 NL Hold'em [Ante Up!], $200K guaranteed
17:00 ET
Event 14-L: $55 FL Omaha Hi/Lo, $50K guaranteed
Event 14-M: $530 FL Omaha Hi/Lo, $150K guaranteed
Event 14-H: $5,200 FL Omaha Hi/Lo, $250K guaranteed
20:00 ET
Event 15-L: $16.50 NL Hold'em [2X Chance, turbo], $250K guaranteed
Event 15-M: $162 NL Hold'em [2X Chance, turbo], $500K guaranteed
Event 15-H: $1,575 NL Hold'em [2X Chance, turbo], $750K guaranteed
Saturday, 08 May 2010
14:00 ET
Event 16-L: $22 NL Hold'em - Quadruple Shootout [10-max], $150K guaranteed
Event 16-M: $215 NL Hold'em - Triple Shootout [10-max], $150K guaranteed
Event 16-H: $2,100 NL Hold'em - Double Shootout [10-max], $200K guaranteed
17:00 ET
Event 17-L: $16.50 PL Omaha - (6-max rebuys), $100K guaranteed
Event 17-M: $162 PL Omaha - (6-max rebuys), $250K guaranteed
Event 17-H: $1,575 PL Omaha - (6-max rebuys), $500K guaranteed
20:00 ET
Event 18-L: $22 FL Hold'em (turbo), $25K guaranteed
Event 18-M: $215 FL Hold'em (turbo), $100K guaranteed
Event 18-H: $2,100 FL Hold'em (turbo), $150K guaranteed
Sunday, 09 May 2010
13:00 ET
Event 19-L: $22 NL Hold'em [big antes], $250K guaranteed
Event 19-M: $215 NL Hold'em [big antes], $750K guaranteed
Event 19-H: $2,100 NL Hold'em [big antes], $750K guaranteed
17:00 ET
Event 20-L: $22 NL Hold'em, $500K guaranteed (2-day event)
Event 20-M: $215 NL Hold'em, $2M guaranteed (2-day event)
Event 20-H: $2,100 NL Hold'em, $2M guaranteed (2-day event)
Monday, 10 May 2010
14:00 ET
Event 21-L: $16.50 PL Hold'em / PL Omaha, $75K guaranteed
Event 21-M: $162 PL Hold'em / PL Omaha, $200K guaranteed
Event 21-H: $1,575 PL Hold'em / PL Omaha, $300K guaranteed
17:00 ET
Event 22-L: $33 NL Hold'em [4-max], $150K guaranteed
Event 22-M: $320 NL Hold'em [4-max], $300K guaranteed
Event 22-H: $3,150 NL Hold'em [4-max], $500K guaranteed
20:00 ET
Event 23-L: $11 NL Hold'em [turbo, rebuys], $150K guaranteed
Event 23-M: $109 NL Hold'em [turbo, rebuys], $300K guaranteed
Event 23-H: $1,050 NL Hold'em [turbo, rebuys], $500K guaranteed
Tuesday, 11 May 2010
14:00 ET
Event 24-L: $11 Triple Draw 2-7, $25K guaranteed
Event 24-M: $109 Triple Draw 2-7, $50K guaranteed
Event 24-H: $1,050 Triple Draw 2-7, $75K guaranteed
17:00 ET
Event 25-L: $22 7-Card Stud Hi/Lo, $50K guaranteed
Event 25-M: $215 7-Card Stud Hi/Lo, $100K guaranteed
Event 25-H: $2,100 7-Card Stud Hi/Lo, $150K guaranteed
20:00 ET
Event 26-L: $11 NL Hold'em, $100K guaranteed
Event 26-M: $109 NL Hold'em, $200K guaranteed
Event 26-H: $1,050 NL Hold'em, $500K guaranteed
Wednesday, 12 May 2010
14:00 ET
Event 27-L: $22 Razz, $50K guaranteed
Event 27-M: $215 Razz, $100K guaranteed
Event 27-H: $2,100 Razz, $150K guaranteed
17:00 ET
Event 28-L: $11 NL Hold'em (rebuys), $200K guaranteed
Event 28-M: $109 NL Hold'em (rebuys), $400K guaranteed
Event 28-H: $1,050 NL Hold'em (rebuys), $600K guaranteed
Thursday, 13 May 2010
14:00 ET
Event 29-L: $33 8-Game, $75K guaranteed
Event 29-M: $320 8-Game, $150K guaranteed
Event 29-H: $3,150 8-Game, $250K guaranteed
17:00 ET
Event 30-L: $11 PL Omaha Hi/Lo, $75K guaranteed
Event 30-M: $109 PL Omaha Hi/Lo, $150K guaranteed
Event 30-H: $1,050 PL Omaha Hi/Lo, $300K guaranteed
Friday, 14 May 2010
14:00 ET
Event 31-L: $22 NL Hold'em [1 rebuy, 1 add-on], $250K guaranteed
Event 31-M: $215 NL Hold'em [1 rebuy, 1 add-on], $500K guaranteed
Event 31-H: $2,100 NL Hold'em [1 rebuy, 1 add-on], $1M guaranteed
17:00 ET
Event 32-L: $55 FL Hold'em [6-max], $100K guaranteed
Event 32-M: $530 FL Hold'em [6-max], $200K guaranteed
Event 32-H: $5,200 FL Hold'em [6-max], $300K guaranteed
20:00 ET
Event 33-L: $22 NL Omaha Hi/Lo (turbo), $50K guaranteed
Event 33-M: $215 NL Omaha Hi/Lo (turbo), $100K guaranteed
Event 33-H: $2,100 NL Omaha Hi/Lo (turbo), $200K guaranteed
Saturday, 15 May 2010
14:00 ET
Event 34-L: $55 PL Omaha [6-max], $100K guaranteed
Event 34-M: $530 PL Omaha [6-max], $250K guaranteed
Event 34-H: $5,200 PL Omaha [6-max], $500K guaranteed
15:30 ET
Event 35-L: $270 NL Hold'em [Heads-Up Match Play], $250K guaranteed (2-day event)
Event 35-M: $2,600 NL Hold'em [Heads-Up Match Play], $500K guaranteed (2-day event)
Event 35-H: $25,500 NL Hold'em [Heads-Up Match Play], $750K guaranteed (2-day event)
17:00 ET
Event 36-L: $22 HORSE, $50K guaranteed
Event 36-M: $215 HORSE, $100K guaranteed
Event 36-H: $2,100 HORSE, $150K guaranteed
Sunday, 16 May 2010
13:00 ET
Event 37-L: $22 NL Hold'em, $200K guaranteed
Event 37-M: $215 NL Hold'em, $750K guaranteed
Event 37-H: $2,100 NL Hold'em, $750K guaranteed
17:00 ET
Event 38-L: $109 NLHE Main Event - L, $1M guaranteed (2-day event)
Event 38-M: $1,050 NLHE Main Event - M, $3M guaranteed (2-day event)
Event 38-H: $10,300 NLHE Main Event - H, $5M guaranteed, $1M guaranteed to 1st, (2-day event)
TOTAL GUARANTEED PRIZE POOL: $45,000,000
--
Filed Under:
Online Poker Rooms