2010 World Series of Poker Expected to Break Records
Published on May 8th, 2010 6:00 pm EST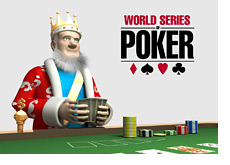 In 2009, the World Series of Poker had 60,875 total entries for its 57 tournaments, easily eclipsing the previous record of 58,720.
Players from 115 different countries converged on Las Vegas to participate in poker's biggest series, creating a total prize pool of over $174 million.
39 of the 57 events had a total prize pool of over $1 million, while ten of the 57 events ended up selling out.
In addition, the main event had a total field size of 6,494 players, a number that could have been even larger if the final start date hadn't sold out (hundreds of players were shut out of the event).
These are all extremely impressive numbers, however, tournament organizers are expecting even bigger numbers this year.
According to a conference call earlier this week, WSOP officials are expecting larger numbers and are planning accordingly. More tables will be in use (377) and more space will be utilized (100k square feet plus will be dedicated to the World Series of Poker).
According to tournament vice president Ty Stewart, "we're very confident that our total participation will set a record this year."
One of the biggest changes that will increase the total numbers this year? The inclusion of six open $1,000 events, in addition to the traditional $1k Seniors and Ladies Championships.
Last year's "Stimulus Special" event ($1k Open NLHE) attracted over 6,000 players, creating the largest ever non-main event field. Tournament organizers have wisely decided to hold a $1k NLHE event every weekend that the World Series of Poker is running this year, which should help to lure thousands of casual players to Las Vegas to participate.
In addition, online poker's continued growth and a moderate uptick in the global economy should help to increase this year's total prize pool.
The bottom line - if you are planning on participating in the 2010 World Series of Poker, be prepared for big crowds and try to register for events as early as you possibly can.
Source: Philly.com -
Poker World Series Raises Ante Again
--
Filed Under:
The World Series of Poker