EPT Season 7 Will Feature Total of 13 Events
Published on May 12th, 2010 5:27 pm EST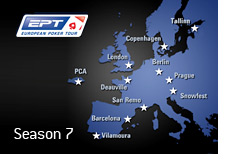 Pokerstars issued a press release earlier today in which they confirmed most of the dates and destinations for Season 7 of the European Poker Tour.
There will be a total of 13 events this season, starting with the brand-new EPT Tallinn in Tallinn, Estonia, and ending with the EPT Grand Final.
The EPT Tallinn event will run from August 11th to 16th and will feature a 4,000 + 250 EUR buy-in. Pokerstars decided to add an EPT event in Tallinn after the successful Pokerstars Baltic Festival last year.
According to Pokerstars, the dates and location of the EPT Grand Final and EPT San Remo have not been determined as of yet.
Here is the schedule as it stands right now:
EPT Season 7 Schedule
EPT Tallinn - Aug 11-16th, 2010
Venue: Swissotel, Buy-in: 4,000 + 250 EUR
EPT Vilamoura - Aug 28-Sep 2nd, 2010
Venue: Solverde, Buy-in: 5,000 + 300 EUR
EPT London - Sep 29-Oct 4th, 2010
Venue: Metropole, Buy-in: 5,000 + 250 pounds
EPT Barcelona - Nov 22-27th, 2010
Venue: The Arts, Buy-in: 5,000 + 300 EUR
EPT Prague - Dec 13-18th, 2010
Venue: Hilton, Buy-in: 5,000 + 300 EUR
PCA - Jan 8-14th, 2011
Venue: Atlantis, Buy-in: $10,000 + $300
EPT Deauville - Jan 26-31st, 2011
Venue: Casino Barriere, Buy-in: 5,000 + 300 EUR
EPT Copenhagen - Feb 17-22nd, 2011
Venue: Casino Copenhagen, Buy-in: 35,000 + 2,250 DKK
EPT Snowfest - Mar 20-25th, 2011
Venue: Alpine Palace, Buy-in: 3,500 + 250 EUR
EPT Berlin - Apr 5-10th, 2011
Venue: Grand Hyatt, Buy-in: 5,000 + 300 EUR
EPT San Remo - TBC
Venue: TBC, Buy-in: 5,000 + 300 EUR
EPT Grand Final - TBC
Venue: TBC, Buy-in: 10,000 + 600 EUR
--
Source: Europeanpokertour.com -
Pokerstars Confirms Dates for Season 7 of the European Poker Tour
--
Filed Under:
Other Poker News