Phil Laak Will Attempt to Set New Poker Endurance Record Starting June 2nd
Published on May 20th, 2010 7:49 pm EST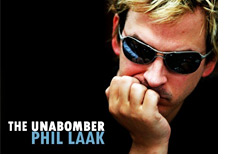 Starting on June 2nd, Phil Laak will attempt to secure a spot in the Guinness Book of World Records by breaking the poker endurance record that is currently held by Paul Zimbler.
Phil Laak will attempt to break the record at the Bellagio in Las Vegas. The official start time for the record-breaking attempt will be 12 pm on June 2nd.
Laak has said that his goal is to play for 80 hours straight, which would best Paul Zimbler's mark by a couple of hours.
Here is the history of the record over the past number of years:
2004 - Larry Olmsted sets the record by playing for 72 hours straight at Foxwoods (Olmsted took short breaks every 8 hours to change his clothes and brush his teeth, and ended up running his $100 in chips to just under $1,000 by the end of the session).
2008 - Dave Cain breaks the record in September of 2008 after playing for about 74 hours straight. Cain decided to play heads up poker, which ended up making the challenge more mentally taxing. Cain was initially going for 100 hours, but ended up quitting shortly after breaking the record
2009 - Paul Zimbler breaks the record in September of 2009 after playing for over 75 hours straight. Zimbler played heads up poker against roughly 200 different opponents during that time, including the likes of Annette Obrestad and Mike Matusow
--
Phil Laak, according to a press release circulated earlier today, will be using the attempt to raise money for Camp Sunshine, which is "an organization that provides respite, support, joy and hope to children with life-threatening illnesses and their immediate families through various stages of a child's illness." In addition, Laak will be donating half of any money that he wins during the session to the organization.
According to his blog (link below), Laak has been training his "body, mind and spirit" to prepare for this record breaking attempt since the beginning of January.
This attempt will be taking place during the World Series of Poker (which starts in a week), so Laak will have no shortage of opponents or fanfare.
It should be interesting to see how long Laak lasts, as Paul Zimbler was clearly on another planet by the time that his attempt came to an end.
Source:
Unabomberpoker.com Blog
--
Filed Under:
Other Poker News