Tom "durrrr" Dwan Falls Short in $10,000 Pot Limit Omaha Championship
Published on July 4th, 2010 4:15 am EST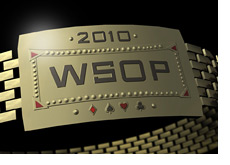 It wasn't meant to be for Tom "durrrr" Dwan on Saturday, as the young poker phenom once again came up short in his quest for his first World Series of Poker bracelet.
Dwan entered the third day of play in the $10k Pot Limit Omaha Championship with a dominating chip lead (+300k more than his closest competitor). There were only 33 players left in the event after Day 2, so "durrrr" was certainly in a good spot heading into Day 3.
Dwan quickly gave up the chip lead on Saturday, dropping as low as 250k in chips a few hours into play.
"durrrr" then quickly regained the chip lead in the event after getting involved in a massive pot against Blair Rodman and Jordan Smith. Dwan, who held Jc-10d-9h-8c, managed to flop trip Eights and beat Rodman's Ad-As-Qd-5c and Smith's Ac-Jh-10s-6c. This massive pot gave Dwan nearly 1.2 million in chips, and he appeared to be well on his way to making a serious run at his first World Series of Poker bracelet.
It wasn't meant to be for Dwan though, as he ended up being eliminated by Matthew Wheat in 17th place ($31,288).
Back down to 250k chips once again, Dwan decided to commit the last of his chips after a flop of 7h-6h-Jc. Wheat called, and the two players turned up:
Dwan - Qd-9c-8h-7d
Wheat - Kh-8d-5h-4c
The river brought the Eight of spades, giving Wheat the straight and sending "durrrr" to the rail.
A victory in this event would have not only brought Dwan his very first World Series of Poker bracelet, but also millions of dollars in winnings from bracelet side bets. After coming very close to cashing in on his bets twice this year (17th in the $10k PLO, 2nd in a $1,500 NLHE), Dwan has to be kicking himself for missing out on such a huge payday.
There is just one event left at the 2010 World Series of Poker, and that is the $10,000 main event which gets under way on July 5th. "durrrr" has some serious work to do over the coming weeks if he wants to cash in on his bracelet bets.
--
Filed Under:
The World Series of Poker