2010 WCOOP Schedule Released by Pokerstars
Published on July 8th, 2010 4:57 pm EST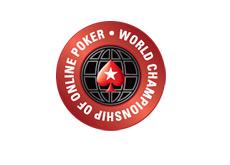 A few hours ago, Pokerstars released the schedule for the 2010 WCOOP (World Championship of Online Poker).
The first event will take place on Sunday, September 5th, while the last event (2-Day $5,200 NLHE Main Event) will start at 17:00 ET on Sunday, September 26th.
As of right now, there will be a total of 62 events that will stretch over the three week span.
Information regarding guarantees, etc. has not been released by Pokerstars as of yet.
Here is the schedule:
Sunday, September 5th
13:00 ET: $215 NL Hold'em [6-Max]
15:00 ET: $10,300 NL Hold'em [High Roller]
17:00 ET: $215 NL Hold'em [2-Day]
Monday, September 6th
14:00 ET: $320 PL Omaha
17:00 ET: $215 NL Hold'em Shootout [6-Max]
20:00 ET: $215 NL Hold'em [Turbo, Rebuys]
Tuesday, September 7th
14:00 ET: $215 PL Draw
17:00 ET: $215 TBD
20:00 ET: $1,050 NL Hold'em [15-Min Levels]
Wednesday, September 8th
12:00 ET: $265 PL Omaha (Knockout)
14:00 ET: $320 NL Hold'em [Ante Up]
17:00 ET: $215 NL Hold'em [Heads-Up, 2-Day]
Thursday, September 9th
12:00 ET: $215 NL Hold'em
14:00 ET: $265 NL Hold'em [6-Max, Knockout]
17:00 ET: $215 Razz
Friday, September 10th
14:00 ET: $215 PL Omaha [6-Max]
17:00 ET: $215 NL Single Draw
20:00 ET: $109 8-Game [10-Min Levels]
Saturday, September 11th
13:00 ET: $109 NL Hold'em [10-Min Levels]
17:00 ET: $215 FL Hold'em
Sunday, September 12th
13:00 ET: $215 NL Hold'em
17:00 ET: $530 NL Hold'em [2-Day]
Monday, September 13th
14:00 ET: $215 NL Hold'em [4-Max]
17:00 ET: $320 Stud
20:00 ET: $215 PL Omaha [Turbo, 1 Rebuy, 1 Add-On]
Tuesday, September 14th
14:00 ET: $320 Mixed Hold'em [6-Max]
17:00 ET: $320 FL Badugi
20:00 ET: $1050 NL Hold'em [15-Min Levels]
Wednesday, September 15th
12:00 ET: $215 NL Hold'em [1 Rebuy, 1 Add-On]
14:00 ET: $530 NL Hold'em Triple Shootout [10-Max]
17:00 ET: $320 8-Game
Thursday, September 16th
12:00 ET: $215 NL Hold'em [6-Max]
14:00 ET: $320 PL Omaha [6-Max, 1 Rebuy, 1 Add-On]
17:00 ET: $320 FL Triple Draw 2-7
Friday, September 17th
14:00 ET: $215 NL Hold'em (Rebuys)
17:00 ET: $530 FL Omaha Hi/Lo
20:00 ET: $320 NL Hold'em [10-Min Levels]
Saturday, September 18th
13:00 ET: $530 NL Hold'em [Heads-Up, 2-Day]
15:00 ET: $25,500 NL Hold'em [High Roller Heads-Up, 2-Day]
17:00 ET: $320 HORSE
Sunday, September 19th
13:00 ET: $215 NL Hold'em
17:00 ET: $1,050 NL Hold'em [2-Day]
Monday, September 20th
14:00 ET: $320 PL Omaha [6-Max, Rebuys]
17:00 ET: $320 NL Hold'em [2X Chance]
20:00 ET: $265 NL Hold'em [Turbo, Knockout]
Tuesday, September 21st
14:00 ET: $320 Mixed [PLHE / PLO]
17:00 ET: $530 Stud Hi/Lo
20:00 ET: $1,050 NL Hold'em [15-Min Levels]
Wednesday, September 22nd
12:00 ET: $215 PL Omaha [6-Max]
14:00 ET: $215 NL Hold'em [Big Antes]
17:00 ET: $320 PL Omaha Hi/Lo
Thursday, September 23rd
12:00 ET: $215 NL Hold'em (Turbo)
14:00 ET: $530 NL Hold'em (Rebuys)
17:00 ET: $2,100 PL Omaha [6-Max]
Friday, September 24th
14:00 ET: $530 NL Hold'em [1 Rebuy, 1 Add-On]
17:00 ET: $1,050 FL Hold'em [6-Max]
20:00 ET: $215 NL Omaha H/L [10-Min Levels]
Saturday, September 25th
13:00 ET: $530 PL Omaha [Heads-Up Matches]
17:00 ET: $2,100 HORSE
Sunday, September 26th
13:00 ET: $215 NL Hold'em
15:00 ET: $10,300 8-Game [High-Roller]
17:00 ET: $5,200 NL Hold'em Main Event [2-Day]
Source: Pokerstarsblog.com -
Pokerstars Releases 2010 WCOOP Schedule
--
Filed Under:
Online Poker Rooms