7,319 Players Turn Out for 2010 World Series of Poker Main Event
Published on July 9th, 2010 1:07 am EST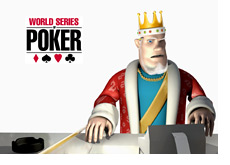 2,391 players turned out for Day 1d of the World Series of Poker main event on Thursday, creating a total field size for the main event that easily topped last year's total.
The 7,319 player field for the main event was the second largest of all time, easily surpassing the 2008 main event (6,844 players, won by Peter Eastgate). The all-time record is still held by the 2006 main event (8,733 players, won by Jamie Gold).
It's clear that many people learned their lesson after last year's Day 1d debacle. There were no sell-outs this year, as many people made the decision to play on the other three starting days instead.
Here is how the numbers broke down this year:
Day 1a - 1,125
Day 1b - 1,489
Day 1c - 2,314
Day 1d - 2,391
Compare this to last year's numbers:
Day 1a - 1,116
Day 1b - 873
Day 1c - 1,696
Day 1d - 2,809
The Day 1b and 1c numbers were much higher this year, as people clearly didn't want to run the risk of being shut out of the main event due to a Day 1d sellout.
The 7,319 player field represents a healthy increase over last year's total, even after accounting for the hundreds of people who were shut out of last year's event.
The total prize pool for this year's main event is $68,798,600. The eventual winner of the event will take home $8,944,138 (up from $8,546,435 last year), while the runner-up will walk away with $5,545,855.
The top 747 spots will pay out, with all players who make the cash being guaranteed a minimum of $19,263.
It's good to know that poker continues to thrive despite a weak global economy and various anti-online poker measures instituted by a number of governments throughout the world. The numbers for the 2010 World Series of Poker were very strong in general - let's hope for more of the same in the years ahead.
Good luck to everybody who is still alive in the main event..
--
Filed Under:
The World Series of Poker