Cuong Nguyen Chip Leader of World Series of Poker Main Event At Day 7 Dinner Break
Published on July 16th, 2010 10:52 pm EST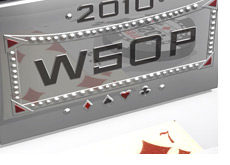 Cuong Nguyen is currently the DOMINANT chip leader in the World Series of Poker main event. The event is currently paused for the dinner break and will resume in an hour.
Nguyen is currently sitting on 19.5 million in chips, which is a full 7.2 million chips more than the next closest player, William Thorson (12.29 million).
Cuong Nguyen surged to the chip lead in the main event after getting involved in a huge pot with Theo Jorgensen just before the dinner break.
After a flop of Kc-5h-9c, Jorgensen and Nguyen got into a raising war. Neither player slowed down - after a 4 million chip raise from Jorgensen, Nguyen pushed all-in and Jorgensen called, creating a pot of nearly 20 million chips. The two players flipped over:
Nguyen - Kh-Jc
Jorgensen - Ac-3c
Nguyen had flopped a pair of Kings with a Jack kicker, while Jorgensen had the nut flush draw.
The board ran out 10d-3d and Nguyen was shipped the massive 19.5 million chip pot.
--
There are currently 42 players left in the main event as right now. The tournament will play down to 27 tonight, with the final day before the "November Nine" final table taking place on Saturday.
Here are the top five chip stacks as of right now:
Cuong Nguyen - 19,520,000
William Thorson - 12,290,000
Pascal LeFrancois - 10,300,000
Filippo Candio - 10,220,000
Jonathan Duhamel - 10,015,000
All of the remaining 42 players in this event will receive a minimum of $206,395 for making it this far.
There are a few notable names still left in the main event as well. They include:
Bryn Kenney - 7,400,000
Adam Levy - 4,600,000
Scott Clements - 4,200,000
Michael Mizrachi - 3,655,000
Johnny Lodden - 3,495,000
Theo Jorgensen - 2,300,000
Hasan Habib - 520,000
Tony Dunst, Alexander Kostritsyn, David Benyamine and Jean-Robert Bellande all hit the rail earlier today.
--
Filed Under:
The World Series of Poker