Attendance For World Series of Poker Up 20% Over Last Year
Published on July 19th, 2010 8:14 am EST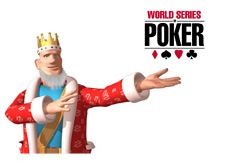 The 2010 World Series of Poker was a major success, despite the fact that the global economy remains mired in a slump.
After including the numbers for the main event, the 2010 World Series of Poker ended up with a total of 72,967 entrants, well up over 2009's total of 60,875 (+19.9%).
The total prize pool for the 2010 World Series of Poker came in at over $187 million, easily topping last year's total of $174,013,215.
The 2010 numbers were helped by the very strong turnout for the main event. 7,319 players paid the $10,000 buy-in to create a prize pool of $68,798,600, which was the second largest in the history of the main event.
This year's World Series of Poker also featured a fair amount of drama, including:
-Michael "The Grinder" Mizrachi's incredible run
-Phil Ivey's eighth World Series of Poker bracelet
-Tom Dwan's second place finish
-Matt Affleck's heartbreaking exit from the main event
So, not only did people turn out for the 2010 WSOP in droves, but there will also be plenty of moments that will make for great TV when ESPN begins their broadcasts of the event later in the year.
Overall, tournament organizers seem to have done a great job with this year's event. I didn't hear too much in the way of complaining from players, especially compared to previous years (no Day 1D main event registration debacles, no "Player's Pavilion" tent issues, etc). World Series of Poker organizers seem to be doing a good job of listening to players, and this has translated into less player complaints with each passing year.
Attendance has increased for the World Series of Poker over each of the last seven years. It will be interesting to see if attendance will increase yet again next year, and what changes Harrah's will implement to try and make that happen.
Source: WSOP.com -
2010 World Series of Poker Shatters Attendance Record
--
Filed Under:
The World Series of Poker