Official 2010 WCOOP Schedule Released by Pokerstars
Published on August 7th, 2010 4:42 am EST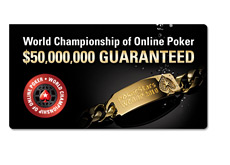 On July 8th, 2010, Pokerstars released the preliminary schedule for the 2010 WCOOP (World Championship of Online Poker).
Certain information, such as the amount of guaranteed prize money for each of the 62 events, was not released at the time.
The final schedule has now been released, and players can now start figuring out exactly which events that they are going to play in.
According to WCOOP.com, the 2010 WCOOP will have a total of $50,000,000 in total guaranteed prize money. The WCOOP has come a long way since its debut in 2002, when the total prize pool clocked in at less than $800k for the entire event.
Last year's WCOOP featured $40 million in guaranteed prize money over a total of 45 events. The total prize pool for the 2009 WCOOP ended up north of $50 million, with 43,973 unique players from 140 different countries taking part.
The 2010 WCOOP will get under way on September 5th and run until September 27th (the $5k Main Event is a 2-day event).
Here is the final 2010 WCOOP schedule:
September 5th, 2010
1 - 13:00, $200 NLHE 6-Max, $1,250,000
2 - 15:00, $10,000 NLHE High Roller, $2,000,000
3 - 17:00, $200 NLHE, $2,000,000
September 6th, 2010
4 - 14:00, $300 Pot Limit Omaha, $200,000
5 - 17:00, $300 No Limit Hold'em Shootout 6-Max, $300,000
6 - 20:00, $200 No Limit Hold'em Turbo w/ Rebuys, $600,000
September 7th, 2010
7 - 14:00, $200 PL Draw, $100,000
8 - 17:00, $200 Triple Stud, $100,000
9 - 20:00, $1,000 No Limit Hold'em 2-Day, $1,000,000
September 8th, 2010
10 - 12:00, $250 Pot Limit Omaha (Knockout), $200,000
11 - 14:00, $300 No Limit Hold'em Ante Up, $300,000
12 - 17:00, $200 No Limit Hold'em Heads-Up (2-Day), $200,000
September 9th, 2010
13 - 12:00, $200 PL Omaha Hi/Lo (6-Max, 1 Rebuy, 1 Add-on), $200,000
14 - 14:00, $250 No Limit Hold'em 6-Max (Knockout), $400,000
15 - 17:00, $200 RAZZ, $250,000
September 10th, 2010
16 - 14:00, $200 Pot Limit Omaha 6-Max, $500,000
17 - 17:00, $200 NL Single Draw, $50,000
18 - 20:00, $100 8-Game (10 Minute Levels), $100,000
September 11th, 2010
19 - 13:00, $100 No Limit Hold'em (10 Minute Levels), $1,250,000
20 - 17:00, $200 FL Hold'em, $250,000
September 12th, 2010
21 - 13:00, $200 No Limit Hold'em, $1,500,000
22 - 17:00, $500 No Limit Hold'em (2-Day), $3,000,000
September 13th, 2010
23 - 14:00, $200 No Limit Hold'em 4-Max, $700,000
24 - 17:00, $300 Stud, $150,000
25 - 20:00, $200 Pot Limit Omaha (Turbo, 1 Rebuy, 1 Add-on), $400,000
September 14th, 2010
26 - 14:00, $300 Mixed Hold'em 6-Max, $400,000
27 - 17:00, $300 FL Badugi, $100,000
28 - 20:00, $1,000 No Limit Hold'em (2-Day), $1,000,000
September 15th, 2010
29 - 12:00, $250 NL Omaha Hi/Lo (Knockout), $150,000
30 - 14:00, $500 No Limit Hold'em Triple Shootout (10-Max, 2-Day), $500,000
31 - 17:00, $300 8-Game, $250,000
September 16th, 2010
32 - 12:00, $300 No Limit Hold'em 6-Max, $300,000
33 - 14:00, $300 Pot Limit Omaha 6-Max (1 Rebuy, 1 Add-on), $500,000
34 - 17:00, $300 FL Triple Draw 2-7, $100,000
September 17th, 2010
35 - 14:00, $200 No Limit Hold'em w/ Rebuys, $1,000,000
36 - 17:00, $500 FL Omaha Hi/Lo, $400,000
37 - 20:00, $300 No Limit Hold'em (10 Minute Levels), $750,000
September 18th, 2010
38 - 13:00, $500 No Limit Hold'em Heads-Up (2-Day), $600,000
39 - 15:00, $25,000 No Limit Hold'em High Roller Heads-Up (2-Day), $750,000
40 - 17:00, $300 HORSE, $300,000
September 19th, 2010
41 - 13:00, $200 No Limit Hold'em, $1,500,000
42 - 17:00, $1,000 No Limit Hold'em (2-Day), $3,000,000
September 20th, 2010
43 - 14:00, $300 Pot Limit Omaha 6-Max (w/Rebuys), $600,000
44 - 17:00, $300 No Limit Hold'em 2X Chance, $750,000
45 - 20:00, $250 No Limit Hold'em Turbo (Knockout), $300,000
September 21st, 2010
46 - 14:00, $300 Mixed (PLHE/PLO), $400,000
47 - 17:00, $500 Stud Hi/Lo, $200,000
48 - 20:00, $1,000 No Limit Hold'em (2-Day), $1,000,000
September 22nd, 2010
49 - 12:00, $200 No Limit Hold'em (1 Rebuy, 1 Add-on), $250,000
50 - 14:00, $200 No Limit Hold'em (Big Antes), $600,000
51 - 17:00, $300 Pot Limit Omaha Hi/Lo, $400,000
September 23rd, 2010
52 - 12:00, $300 No Limit Hold'em Turbo, $400,000
53 - 14:00, $500 No Limit Hold'em w/ Rebuys, $1,000,000
54 - 17:00, $2,000 Pot Limit Omaha 6-Max (2-Day), $800,000
September 24th, 2010
55 - 14:00, $500 No Limit Hold'em (1 Rebuy, 1 Add-on), $1,000,000
56 - 17:00, $1,000 FL Hold'em 6-Max, $400,000
57 - 20:00, $200 No Limit Omaha H/L (10 Minute Levels), $200,000
September 25th, 2010
58 - 13:00, $500 Pot Limit Omaha Heads-Up (2-Day), $200,000
59 - 17:00, $2,000 HORSE (2-Day), $400,000
September 26th, 2010
60 - 13:00, $200 No Limit Hold'em, $1,500,000
61 - 15:00, $10,000 8-Game High-Roller (2-Day), $1,000,000
62 - 17:00, $5,000 No Limit Hold'em Main Event (2-Day), $10,000,000
Source:
WCOOP.com
--
Filed Under:
Online Poker Rooms