The Transformation of PartyGaming Over The Past Five Years
Published on August 10th, 2010 3:32 am EST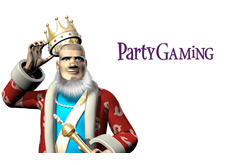 In the first half of 2005, as the online poker boom was really kicking into high gear, PartyGaming generated $412 million in revenues from its poker operations.
At the time, PartyGaming was still operating in the US market and was making money hand over fist. The company was the 800 pound gorilla of the online poker industry, parlaying their success into a well-received IPO.
PartyGaming knew where its bread was buttered and focused almost entirely on Party Poker. The company offered an online casino product at the time, but it generated a very small percentage of their revenues during the first half of 2005 ($25.4 million in revenues). The fact that their online casino business had only grown 6% year over year (compared to an 81% increase for online poker) showed that the company had an unwavering focus on their online poker business, and for good reason. Party Poker was absolutely killing it in 2005.
In the first half of 2005, PartyGaming generated a total of $437.4 million in revenues. 94% of these revenues were generated by Party Poker.
When Party Poker was forced to pull out of the US market in 2006, they realized that they needed to reinvent themselves. With Pokerstars and Full Tilt Poker deciding to remain in the US market, the higher-ups at PartyGaming made the decision to diversify away from poker and into other areas such as casino games, sports betting and bingo.
PartyGaming just released their half year report for the first half of 2010. Of their 181.2 million Euros in revenue (the company switched their accounting from USD to Euros), just 35.5% came from their online poker operations.
That's a pretty staggering change over the course of just five years.
In fact, online poker isn't even their biggest revenue generator now, as their online casino operations generated over 42% of their revenues during the first half of 2010. The remainder of their revenues came from bingo (14.2%), sports betting (5.6%) and "other revenues".
PartyGaming continues to reinvent itself with the recently announced merger with bwin. bwin is a major player in the sports betting space, with over half of its 446.6 million Euros of revenue in 2009 generated from its sports betting operations. The combined company will now be one of the biggest online gambling firms in the world.
PartyGaming could have stuck with just online poker after 2006, but the results would have likely been disastrous for the company. Instead, PartyGaming has methodically rebuilt their business from the ground up, transforming themselves into a true gaming company. In addition, the company has laid the groundwork for a re-entry into the lucrative US market if/when online poker legislation finally becomes a reality.
It will be interesting to see how much market share PartyGaming can grab in the US if online poker is eventually licensed and regulated in the country, and what this will do to their overall revenue mix.
One thing seems certain - no matter what happens in the United States over the next couple of years, PartyGaming will continue to evolve as a company.
Source:
PartyGaming.com
--
Filed Under:
Online Poker Rooms