Gus Hansen vs Jim Collopy Match Set To Resume on Friday Afternoon
Published on September 24th, 2010 12:55 am EST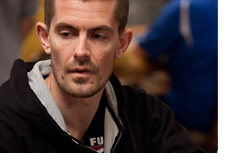 Gus Hansen came agonizingly close to taking down his first World Series of Poker bracelet early Friday morning, but the poker gods just weren't smiling down on the "Great Dane" on this day.
Instead, Hansen and Jim Collopy will play the final game of their best-of-3 match on Friday afternoon, with the winner receiving the coveted World Series of Poker bracelet.
After winning the first match against Collopy with relative ease, Hansen had "Mr_BigQueso" on the ropes in match #2 but just couldn't finish him off.
Hansen had two golden opportunities to take down his first bracelet during Match #2.
With Gus enjoying a sizable chip lead, the two players got all-in pre-flop. They turned over:
Collopy: Kh-9s
Hansen: Ac-7c
The board ran out 7h-10h-3c-6c-9d, giving Collopy a pair of Nines and a key double-up. Hansen had not only flopped a pair of 7s, but he had also turned the nut flush draw. However, Collopy spiked a nine on the river and was able to stay alive in the match.
Golden opportunity #2 for Gus came just a few minutes later. Hansen still possessed the chip lead, and the players once again committed their stacks pre-flop. They turned over:
Hansen: Ks-Kh
Collopy: Ac-Qs
The board ran out Ad-10d-5c-4d-Jh, giving Collopy another double-up.
To add insult to injury, the final hand of Match #2 saw the two players get into another all-in pre-flop confrontation, with Hansen turning over pocket Queens and Collopy turning over pocket Nines. Collopy flopped a full house, equalizing the best-of-3 match at 1.
--
Fortunately for Hansen, tournament organizers decided that the final game would be played on Friday afternoon due to the late hour. Hansen was clearly tilting at the end of the second match, and he'll likely be much more composed when play resumes on Friday afternoon.
--
Both Hansen and Collopy will be trying to win their first WSOP bracelets on Friday afternoon. Both players have had to beat some very tough players to make it to the finals, and either player is very deserving of the bracelet.
The final match in the best-of-3 finals should get underway at around 12 pm local time on Friday afternoon.
Photo: GreasieWheels.com
--
Filed Under:
The World Series of Poker