Taylor Caby and Jay Rosenkrantz Collaborating To Make "Definitive Feature Length Documentary About the Online Poker Boom"
Published on October 18th, 2010 2:42 pm EST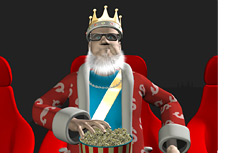 Earlier today, Jay Rosenkrantz announced via his blog that he will be collaborating with Taylor Caby and Ryan Firpo to develop a "feature length documentary about the online poker boom".
According to Rosenkrantz, the working title for the documentary will be "Boom". The project is apparently about to enter the preproduction phase, and will be funded "entirely from a group of high stakes poker players and leaders within the poker community".
Some more quotes from Jay's blog posting regarding the project:
"Our goal: to use key events to chronicle the evolution of online poker and examine its impact on the lives of a handful of online poker players from around the world."
"We are not simply looking to recount the memes that we all know and love and make photoshops of — we are aiming to really capture the spirit of the past years, the climate of today, and shed some light on where we see things going, what it all means and why it might be relevant to a wide audience of people."
--
Sounds very interesting to me - I can't wait to see the finished product. Given the names involved, there is just no way that this documentary won't be awesome.
Here is a quick background on the major players in this project:
Jay Rosenkrantz - high-stakes cash game pro who plays as "pr1nnyraid" on Full Tilt Poker and "purplEUROS" on Pokerstars. Rosenkrantz is also one of the founders of DeucesCracked.com, a popular poker coaching site
Taylor Caby - made a name for himself under his "Green Plastic" alias on Ultimatebet back in the day. Caby is one of the owners of Cardrunners.com and is a "red" pro on Full Tilt Poker
Ryan Firpo - made the popular "From Busto to Robusto" episodes that featured Andrew Robl and Greg "Captain Zeebo" Lavery
--
Source: Dangerlion.com -
Boom.
--
Filed Under:
Other Poker News