Winning Bidder Buys Piece of Poker History for $147,500
Published on November 25th, 2010 8:53 pm EST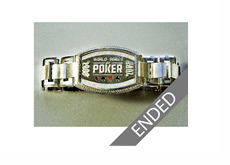 A total of 42 different bidders ended up trying to purchase a piece of poker history after Peter Eastgate's 2008 World Series of Poker main event bracelet went up for auction earlier in the month.
The winning bid in the auction ended up being $147,500. The winning bidder, whose alias is shielded by Ebay for privacy reasons, made five bids in the last hour of the auction to finally claim the bracelet.
The initial winning bid was thought to be $154,985.00, but Ebay couldn't contact the seller and the bid was retracted.
Peter Eastgate, who announced that he was taking an extended leave of absence from the game of poker earlier this year, put his bracelet up for auction on Ebay in order to raise money for the US Fund for UNICEF. The US Fund for UNICEF "supports child survival, protection, and development worldwide thru education, advocacy, and fundraising. For every child: Health, Education, Equality, Protection, Emergency Aid, such as Haiti Earthquake Relief and supporting those affected by the floods in Pakistan."
The auction of Eastgate's main event bracelet attracted the attention of many in the poker world. Tony G, for instance, wrote in a blog entry that he planned on buying the bracelet so that he could turn it into a collar for his dog.
In the end, $147,500 was what it took to purchase a piece of poker history. It will be interesting to see if the buyer will eventually reveal themselves to the public.
Kudos to Peter Eastgate for raising nearly $150,000 for charity.
--
Filed Under:
Other Poker News