Lacey Jones Profile 2023
Player:
Lacey Jones
--
Lacey Jones is already a poker icon. Known to many as the "Poker Barbie," Lacey is one of the most popular players in the world, male and female alike. But there's much more to Lacey than just good looks. She's one of the most fascinating personalities in the game: In addition to being a pro poker player and a social networking phenomenon, Lacey's a fashion model and an international television host and commentator. No one has mixed poker, smarts and sex appeal quite the way that Lacey Jones has.
Born in San Antonio, Texas on April 9, 1979, Lacey took an unusual route to a poker career, and despite her fondness for the game, she never intended to be a pro player. In fact, despite a successful modeling career as a teen, Jones chose to attend college at the University of Arizona in Tucson. At age 22, she graduated with a BA in Political Science and a BA in French. She even lived in Paris for a while to perfect the language. The plan was to return home to the US, attend law school and then eventually achieve a position as a U.S. ambassador to a French-speaking country.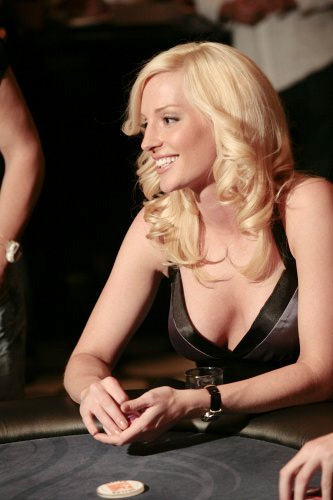 When she returned home, however, not everything went according to plan. Achieving her dream was an expensive proposition, and she had to make that money somehow. So she moved to Los Angeles, and while trying to land roles as a model and an actress, she took a job as a bartender. Eventually, she began landing some small jobs, many of them in Las Vegas because that town offered some great, and relatively easy, opportunities to convert her good looks into cash.
One of those opportunities turned out to be a giant springboard, but Lacey had no idea when she accepted the job. Absolute Poker hired her as a prop player for the 2005 World Series of Poker, which was televised in the U.S. on ESPN. In the poker world, a prop player is a person who represents an organization more because of their looks or celebrity than because of their ability to play. In fact, Absolute Poker had no idea if Lacey had any experience with poker at all, and they even hired poker pro Mark Seif to teach her enough to have a respectable showing.
A funny thing happened though: Lacey played extremely well. What Absolute Poker didn't know was that Lacey came from a poker-playing family. She had spent many long summer nights at the family's North Carolina beach home playing poker, and she was very good at it. Perhaps not even Lacey realized just how good she could be. When Absolute Poker saw the results, it knew right away that it had something very special on its hands. So it offered Lacey a more substantial sponsorship deal, and Lacey agreed to become part of the Absolute Poker pro team.
Lacey didn't take this opportunity for granted, and neither did Absolute Poker. Lacey continued working with Seif and other pro players in order to refine her game. Meanwhile, Lacey expanded her 15 minutes from the ESPN spot by taking to MySpace, Facebook, Twitter and other social networks. Within a very short period, Lacey had an Internet presence that dwarfed even the most established professional poker players. Overnight, she turned herself into a hot commodity, and businesses around the world, in and out of poker, were taking notice.
As a runway and catalog model, Lacey has represented Carolina Herrera, Max and Co., Nike Golf, Saint John and even Playboy, wearing the Playboy Leather Collection. On television, online and in magazines, she has served as a model for Daimler-Chrysler, Panasonic and Sony. She's also appeared in MGD and Coors Light commercials for the MillerCoors Company. Numerous magazines have featured Lacey, and Wicked Chops Poker and Raw Vegas once named her the "Hottest Girl in Poker."
Lacey also began hosting Vegas shows, such as Real Deal at the Venetian. That led to real television spots. First, it was ESPN hiring her for ESPN360 Live during the World Series of Poker main event, and then networks throughout the world began hiring her for various poker events. Lacey brought much more than her looks to the commentator game; she has a great TV voice and presence, a great rapport with other players and a deep understanding of the game.
Since then, Lacey Jones has become so popular as to enter mainstream American pop culture. That has landed her roles on a number of episodic television shows, including Entourage, Las Vegas and The OC. Lacey has also appeared in a music video and she's made appearances on a number talk shows in the U.S. and around the world. She's even had a role in a movie: "Goal."
In her free time, Lacey is a self-described nerd, and she's fascinated with quantum physics. She spends a great deal of time reading books about it, and particularly loves shows hosted by celebrity scientist Dr. Michio Kaku. Lacey also hasn't ruled out the possibility of returning to school. It's certainly possible that her international fame could one day lead her to realizing her dream of becoming a U.S. ambassador.
The only thing missing for Lacey right now is that first big win. She's had an array of respectable finishes, but she has neither the signature win nor the career resume to go along with her international fame that is so closely associated with the world of professional poker. In 2007, after the U.S. passed the UIGEA as part of the Safe Port Act, Absolute Poker dropped most of its sponsorship deals, including the one with Lacey. That slowed Lacey's progression as a pro player considerably, but she's certain that she'll eventually overcome it and land that signature win and a new sponsorship deal.
Photo: GreasieWheels.com
Recent Articles That Mention
Lacey Jones
:
World Series of Poker Update: Huck Seed Wins TOC, Main Event Gets Under Way and More
Lacey Jones Inks Full Tilt Poker Deal, Jason DeWitt Prevails And More
View all Poker Profiles