The Easiest Poker Rooms To Make Money On
When trying to decide which poker site that you should sign up for, determining which site has the "easiest" players (or worst players) should always be a consideration.
There are certain networks and sites out there that have plenty of bad players (who are also known as fish), and there are certain networks and sites that should be avoided due to a high number of "sharks" (good players).
A good rule of thumb is that the larger the player base an online site has, the worse the overall player is that plays on that site.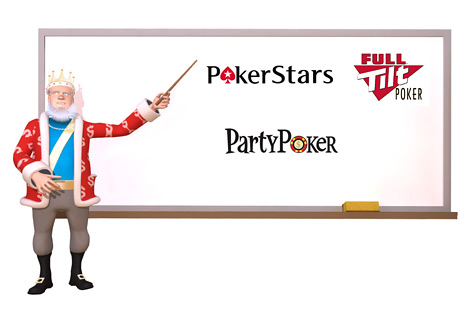 For instance - Pokerstars. Sure, Pokerstars has some very good players on their site, especially at the highest limits.
However, there are SO many players on Pokerstars that there are literally millions of horrible players that log into the site, each and every day. The sheer volume of bad players on the site counterbalances the "good" players, and then some.
So, which sites do I think are the easiest online poker sites to win on? Let's make a quick list for you:
Party Poker
- Party Poker used to be THE easiest site in the world to make money on, bar none.
However, after pulling out of the United States in 2006, the games on Party Poker are a BIT tougher, but Party Poker remains one of the absolute best sites to make money on. There may not be any more fish from the United States on the site anymore, but there are fish from many other different countries.
--
It's important to pick a table to play on that is filled with weak players in order to maximize profits, and it's also important to pick an entire site that is swimming with fish.