Downloading Party Poker for the Mac
Click Here to Download Party Poker for the Mac
After years of waiting, Mac users are finally able to download Mac-compatible software from Party Poker.
No more using the Instant Play pop-ups. No more have to use an old computer. Party Poker has finally made their poker room software available to users of the Mac.
What was the delay? Who knows. Pokerstars released their Mac software years ago, while Full Tilt Poker followed a short time later. Many people (including myself) wondered when Party Poker would step up to the plate, and they finally did.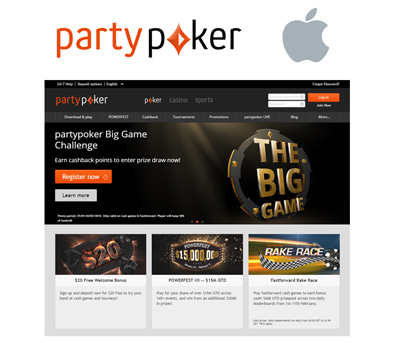 Click Here to visit PartyPoker and Get $40 in Free Play Now!
A recent report said that Apple has nearly 10% market share throughout the world when it comes to PC use, and this will undoubtedly continue to grow with each passing year. That is a pile of people who will suddenly now be able to play on Party Poker with no issues.
If you are a Mac user and were thinking about signing up for Party Poker, let me tell you why you should join.
First, the site offers a $40 free play bonus, plus up to 40% in rakeback.. To qualify for this bonus, simply click on the link at the top of this article!
Second, the site is one of the largest online poker sites in the world. As of the time that this article was written, Party Poker was the second largest online poker site in the world.
Third, the company behind Party Poker is reputable. Bwin.party is a publicly traded company that has been around for years now. The company has thousands of employees and has been in business for over a decade now. Your money and your games are safe at Party Poker.
--
Mac users, rejoice! Party Poker has finally fully opened their doors to you.
Click Here to Download the Party Poker Mac Software Package