How Much is Patrik Antonius Worth?
Q: What is Patrik Antonius' Net Worth?
A: *please note that this article is obviously just fun speculation - there are only a few people in the world who actually know what Patrik Antonius is actually worth, and I'm not one of them
--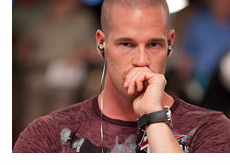 So how much money is
Patrik Antonius
worth? Let's make a guess based on the information that we have available to us. Here is what we know about Antonius:
-he is a member of "Team Full Tilt", which means that he is likely an equity holder in the Full Tilt empire as well. Let's assume that Antonius owns a 1% stake in Full Tilt Poker's various companies, and let's assume that Full Tilt Poker is valued at $1 billion (which is probably a bit low). This would mean that Antonius' likely has a stake in Full Tilt that is valued at around $10 million
-as a member of "Team Full Tilt", Antonius is also entitled to distribution payments as well. Forbes recently speculated that
Full Tilt Poker
generates about $100 million per year in profits, meaning that Antonius is almost certainly is entitled to a seven-figure distribution payment each and every year
-Antonius is easily one of the most profitable cash game players in the short history of online poker. According to HighStakesDB.com, Antonius has made over $11 million just under his "Patrik Antonius" account on Full Tilt Poker. Before playing under his "Patrik Antonius" account on Full Tilt Poker, Antonius reportedly also played under the aliases "Luigi66369" and "CryMeaRiver8". Before signing with Full Tilt Poker, Antonius also played on other sites as well. Given all of this information, I think it's reasonable to say that Antonius has made $20-$25 million plus playing online
-Antonius is bankrolled for the biggest games in the world
-Antonius is based out of Monaco, meaning that he doesn't pay income tax on his earnings
-based on what other high stakes cash game pros have said, Antonius is one of the most consistent winners in the big "live" cash games that take place in Las Vegas and various other gambling meccas throughout the world
-like many other poker pros, Antonius often backs others in tournaments. Antonius reportedly backed both Michael and Robert Mizrachi in the $50k Poker Player's Championship at the 2010 World Series of Poker, which
Michael Mizrachi
ended up winning. There is also a strong possibility that the Antonius/Mizrachi backing agreement extended throughout the entire 2010 World Series of Poker, which would mean that Antonius would have been entitled to a healthy percentage of Mizrachi's $2,332,992 haul in the main event
-on the other hand, let's take a look at these quotes from an Antonius interview from 2010,
courtesy of Cardplayer.com
:
"It might look like I did very well (in 2009), but I lost millions, millions, millions of dollars with other stuff last year"
and
"Iíve had some bad investments. Iíve lost a lot of ó a lot ofó money last year with other people, and I lost some money in sports betting, too"
In the article, Antonius goes on to say that he is probably down $10 million over the course of his life backing other people. The popular rumor a few years back was that Antonius had been backing David Benyamine in the high stakes cash games on Full Tilt Poker, and that Benyamine had lost millions
--
Patrik Antonius is obviously very well off, but his complete net worth picture is made a bit murky by his backing of other players and his sports betting.
My best guess? Patrik Antonius has liquid assets of around $15 million and other assets (stake in FTP, etc) that are worth about the same ($15 million), which would put Patrik Antonius' total net worth at around $30 million.
I'm obviously not Patrik Antonius' accountant, so this is just speculation on my part.
Photo: Greasie Wheels.com
Back to
Answers