How Much is Patrik Antonius Worth?
Q: What is Patrik Antonius' Net Worth?
A: *please note that this article is obviously just fun speculation - there are only a few people in the world who actually know what Patrik Antonius is actually worth, and I'm not one of them
Last Updated: February 19th, 2019
--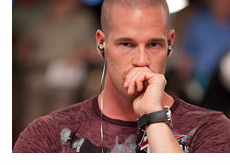 So how much money is
Patrik Antonius
worth? Let's make a guess based on the information that we have available to us.
Over the course of his poker career, Patrik Antonius has accumulated nearly $12 million in total lifetime live tournament cashes, with his biggest cash coming in the Super High Roller Bowl China in 2018 ($3,153,551).
Antonius, however, is well-known for largely avoiding the poker tournament circuit, instead choosing to play in high stakes cash games. The general opinion of Antonius is that he remains one of the best cash game players in the world, and that comes directly from his peers. So, if you take that at face value, you can guess that Antonius has been a big winner in live cash games over the years.
In addition, Antonius has done very well playing in online cash games, as he reportedly made over $17 million on Full Tilt Poker playing under the "FinddaGrind" and "PatrikAntonius" aliases. Who can forget Antonius' legendary battle with Viktor "Isildur1" Blom, when both players had a million dollars in front of them on Full Tilt Poker.
-
Antonius also likely did very well during his time as a member of "Team Full Tilt". Antonius signed with the company in June of 2008, and was still a member of "Team Full Tilt" when the site buckled after "Black Friday". There is no reason to think that Antonius didn't receive an equity stake in the company when he signed, and there is no reason to think that the didn't do extremely well in terms of distribution payments. I'm sure that Antonius was compensated very well during his time with the company. Antonius surely received millions of dollars during his time with the company.
-
Antonius certainly lives the life of somebody who is very wealthy. Antonius, his wife Maya Geller and their two children reside in Monte Carlo, and Antonius is frequently travelling the world to play in events in locales such as Australia and Macau.
It's clear that Antonius has done very well for himself over the course of his poker career. I would estimate that his net worth is something in the neighborhood of $20 million.
Photo: Greasie Wheels.com
Back to
Answers