Definition of 5-Card Draw
What does the term "5-card draw" mean? What are the rules in the game of "5-card draw"?
Before the days of Chris Moneymaker and No Limit Hold'em poker, there was 5-card draw.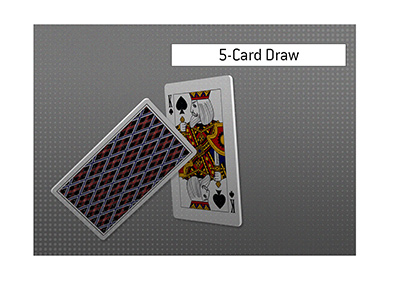 If you played poker with your grandparents or parents growing up, there is a very good chance that you played 5-card draw. In fact, before the boom in No Limit Hold'em, 5-card draw was the game that most people started out with when they were being introduced to the world of poker.
5-Card Draw poker isn't very popular online - instead, the game is mostly played at home.
There are variants of the game of 5-card draw - in some versions, you can have a big blind and small blind, as well as different betting structures.
The most common version of the game, however, see each player in the hand paying an ante, followed by a round of drawing and two rounds of betting.
Let's say that there are four players in a game, and each player pays a $2 ante before the hand starts.
Each player at the table is dealt 5 cards face-down.
A round of betting then takes place.
If there is more than one player in a hand after the first round of betting takes place, the remaining players have the option to "draw", meaning that they will toss some or all of their cards into the muck, only to be replaced by new cards.
So, for instance, I might choose to receive one new card, while keeping the remaining four.
After the drawing portion of the hand takes place, there is one final round of betting. Any player that doesn't fold will then turn their cards face-up, with the winner being declared.
The hands are ranked in the same way as No Limit Hold'em, starting from the worst hand to the best:
High Card
One Pair
Two Pair
Three of a Kind
Straight
Flush
Full House
Quads
Straight Flush
Royal Flush
--
Recent Articles That Include The Term
5-Card Draw
:
2021 SCOOP Schedule Released
Shaun Deeb Wins Eighth WCOOP Title of His Career
Finalized WCOOP 2016 Schedule Released by Pokerstars
Pokerstars Releases Tentative Schedule for WCOOP 2016
World Series of Poker 2014 Schedule Released
Back to the -
Poker Dictionary