Definition of All-In Shootout
What is an "all-in shootout"? What is the definition of the term "All-in shootout"?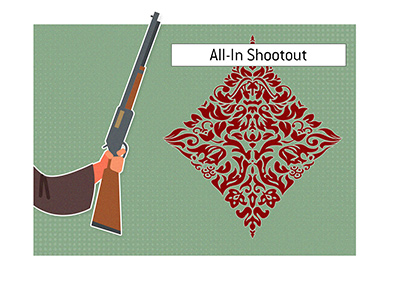 In poker, an "all-in shootout" is a tournament in which everybody is automatically all-in for each and every hand.
These tournaments are not extremely popular, as there is literally zero element of skill involved.
There are no decisions to be made in an all-in shootout, as you will automatically be placed all-in for every hand, regardless of how strong your holding is.
If you desire to enter yourself into a tournament which will be over in just a couple of minutes, the all-in shootout is for you.
In fact, you don't even have to be logged in to "play" in an all-in shootout event, as there are no decisions to be made. Instead, the tournament's winner will be decided for you.
All-in tournaments are a great way for poker rooms to generate rake, and they really aren't good for anything else.
I'd avoid these tournament unless you received entry via some sort of a promotion.
--
Recent Articles That Include The Term
All-In Shootout
:
$65 Million Guaranteed for 2018 SCOOP on Pokerstars
Pokerstars Reveals Details of New Turbo Series
Back to the -
Poker Dictionary