Definition of Deposit Bonus
What does the term "deposit bonus" mean in the world of online poker? What is meant by a deposit bonus?
The online poker industry is extremely competitive. Online poker companies must offer incentives in order to attract new customers, and one of these incentives is the initial deposit bonus.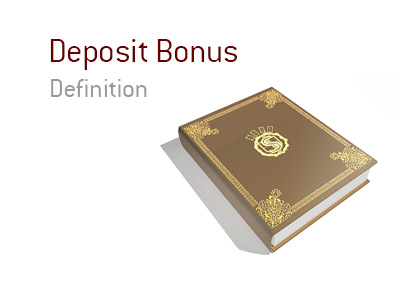 Let's say that you are thinking about signing up for an online poker account, and you see that the site offers something like a 100% deposit bonus of up to $600.
This means that the site will allow you to earn a 100% bonus of the size of your FIRST deposit on their site, up to a maximum of $600.
Now, it's not that simple - they don't simply send you $600 when you deposit. Instead, you have to "earn" your bonus, and the way that you do that is by playing in real money cash games, SNGs and MTTs. The more you play, the quicker you will earn your bonus.
Online poker sites will release your bonus in increments - for instance, they may release your bonus in $10 increments. The more you play, the faster your bonus will be released.
You will have a set amount of time to earn your bonus - at the end of this period, any unearned bonus money will be forfeited. Usually this is set at something like 30 days, though some sites will go as high as 90 days.
-
Every site offers some sort of deposit bonus in this day and age - it is just the nature of the competitive online poker industry.
There are no tricks behind it - you just need to remember that you will need to earn your bonus by playing real money poker, and that the bonus isn't just given to you.
--
Recent Articles That Include The Term
Deposit Bonus
:
Pokerstars Launches in Pennsylvania
Two New Bonuses at Pokerstars
Barney Frank To Continue To Push For Online Gambling Legislation
Back to the -
Poker Dictionary