Definition of Hyper-Turbo
What does the term "hyper-turbo" mean in the world of tournament poker? What is a hyper-turbo tournament?
In poker, a "hyper-turbo" is a tournament in which the blinds escalate every couple of minutes. In most cases, the blinds in a hyper-turbo event will increase every 3 minutes, which means that you'll only get a couple of hands per level.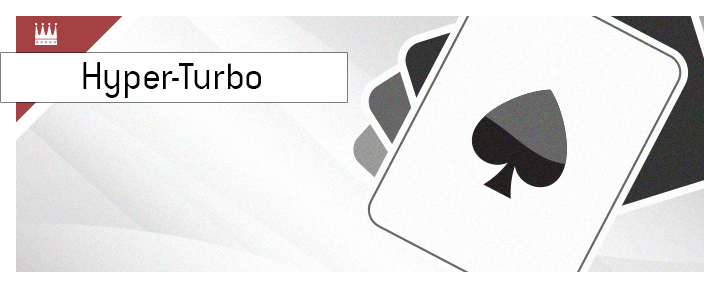 In addition, many hyper-turbo will start with a limited amount of chips, such as 500 chips compared to a more standard total of 1,500.
Hyper-turbos are a great way to play tournaments if you are short on time or want to get some massive volume in, though traditional poker playing techniques fly out the window in these events, as they quickly become all-in fests.
It can be difficult to play more than one hyper-turbo at once, as each hand usually brings about a crucial decision.
Gambling types who want to play a quick tournament or two tend to favour hyper-turbos, while more traditional players will tend to stick to the more traditional SNGs with their standard blind increases and starting stacks.
--
Recent Articles That Include The Term
Hyper-Turbo
:
Pokerstars Celebrating 11th Anniversary of Sunday Million With Massive Guarantee
Pokerstars Announces Rake Increases
Pokerstars Unveils Details of 2015 Turbo Championship of Online Poker
Amaya Gaming Group Angers Pokerstars' Regulars Once Again
Pokerstars Unveils MicroMillions 7 Schedule
Back to the -
Poker Dictionary