Definition of Nit
What is a "nit" as it applies to the game of poker? What is the definition of the term "nit" in poker?
In poker, a "nit" is a player who is very tight.
A "nit" will only engage in hands in which they are almost certain that they are ahead.
For example, a "nit" may only raise hands such as QQ, KK, AA and maybe AK.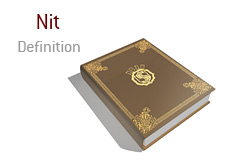 For example, a "nit" may only bet out after a flop of 5-6-10 when they are holding at least two pair or better.
A "nit" can also be someone who is very tight with their money. "Everyone else ordered a steak at dinner, but John just ordered bread and water because he is a nit and didn't want to pay $40".
Being a "nit" is not a good thing at the poker tables. The reason? When you do get involved in a hand, everyone else at the table is automatically cautious because they (correctly) assume that you are playing with a premium hand.
Example: The player with an image as being a "nit" raised from early position, leading everybody to fold - even the player in the BB who was dealt K-Q, as he correctly assumed that he was crushed.
--
Recent Articles That Include The Term
Nit
:
So Close! 2022 World Series of Poker Main Event Barely Misses Attendance Record
Pokerstars: Banned Online Players Will Be Barred From Live Events
The Largest Guaranteed Prize Pool In Live Poker History? It's Happening Later This Year
The Time Tom Dwan Almost Won Eight Figures in WSOP Bracelet Side Bets
What Is The Record for Most Entrants in The World Series of Poker Main Event?
Back to the -
Poker Dictionary