Definition of NJCOP
What does the term "NJCOP" mean? What is the definition of the term NJCOP?
The term NJCOP refers to the "New Jersey Championship of Online Poker", which is a new tournament series that was created by the Borgata and Bwin.Party (parent company of Partypoker) for residents of New Jersey and also visitors to the state.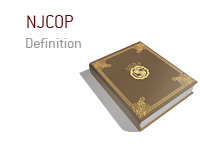 The first ever NJCOP ran from April 19th-27th, 2014 in New Jersey. The first ever NJCOP featured a total of 15 tournaments and a guaranteed prize pool of $600,000.
The NJCOP and the WPT World Championship (hosted by the Borgata) run at the same time, as tournament organizers hope that people who fly out to play in the WPT World Championship also decide to play online in the NJCOP.
The NJCOP is heavy on No Limit Hold'em events, but it also features the occasional Pot Limit Omaha event as well.
--
Recent Articles That Include The Term
NJCOP
:
New Jersey Championship of Online Poker Coming in April
Back to the -
Poker Dictionary